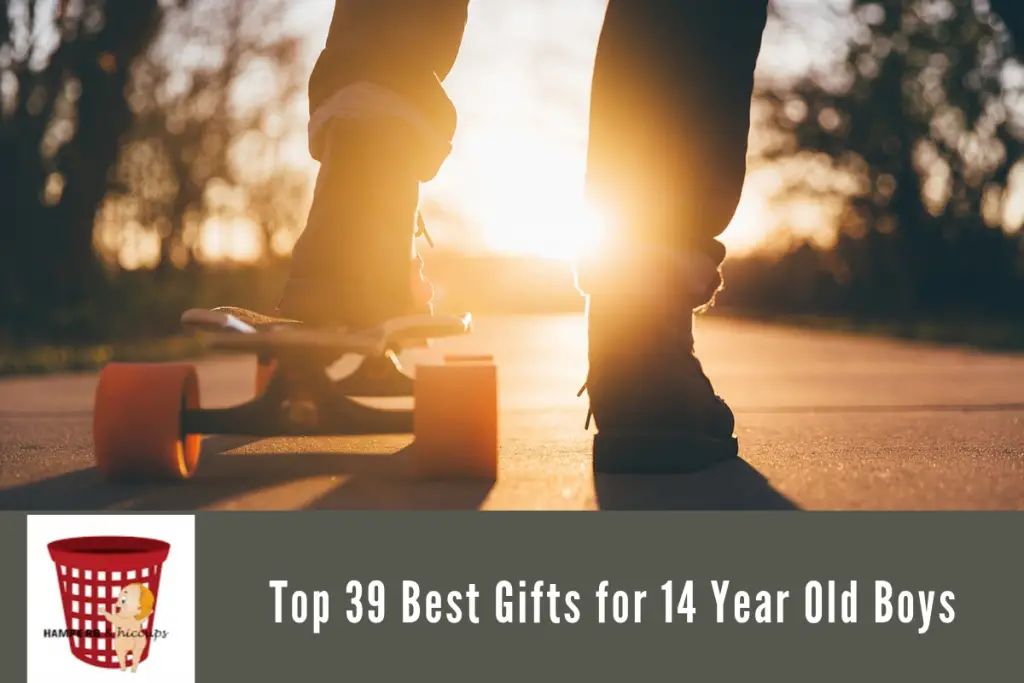 Shopping for gifts can be a challenge but if you're shopping for a 14 year old boy then you're in luck. There are so many kinds of gifts to reflect his interests that it's just a matter of deciding which one to get.
We've done all of the hard work for you with this list of the best gifts for 14 year old boys!
Best Gifts for 14 Year Old Boys: 39 Choices!

Every serious gamer needs to stay organized, and what better way to stay organized than to keep things tidy and charge your gear at the same time? This headphone stand connects under a desk and has two arms to store headphones and cables while also providing five USB ports to charge all of your gear.

Create a custom lightshow with these USB powered LED strip lights with remote control. Not only will the light help to eliminate eye strain but they help create a fun look in any room with a custom light show. With lots of colors to choose from, there are lots of ways to give a room a very fun look.
3. Stereo Gaming Headset with Noise Cancelling Earphones
Guys of all ages love gaming and what better way to get your 14 year old in the game than to give him a set of stereo gaming headphones that also double as noise cancelling headphones. This gaming headset works with all platforms, from PC games, PS4 and XBOX One along with laptops and tablets. The surround sound subwoofer provides an immersive experience while the noise cancelling function keeps things quiet when some quiet time is needed.

For the serious gamer in your life, a one-handed keyboard is an ideal gift to keep him in the game. This one-handed keyboard can be programmed with macro keys that can bind multiple commands. The keyboard can be backlit with five different RGB colors and there's a detachable wrist rest to keep him comfortable during longer campaigns.

"Do not disturb" and "I'm gaming" are perfect messages for your 14 year old's feet. Not only will they keep his feet warm but they will also send a message when he's in the middle of an important battle. One size fits most will ensure they fit his growing feet, too.

This technologically advanced beanie keeps his head warm while connecting him to his phone and music. This bluetooth beanie comes equipped with HD speakers and an upgraded Bluetooth chip so that you can communicate clearly and concisely with everyone.

If the teen boy in your life loves the great outdoors, then this emergency survival kit is a perfect gift for him. This is also a great idea for teens about to start driving so that they can keep the kit in the trunk of their car in case of emergencies. This kit comes loaded with everything you might need, from a whistle and water bottle to fire starters and a compass.

Easy access to music is something that every teen will appreciate, and this bedside lamp comes equipped with a Bluetooth speaker and color changing abilities. The Bluetooth speaker works for audio books and has a long-lasting rechargeable battery.

Want to give a tasty treat? The CraveBox Care Package includes 60 snack items ranging from cookies to candy bars to chips and fruit snacks. Like any teen boy, he'll love snacks and this gift is the perfect way to give him something unique and special in one gift basket bundle.

If your teen loves puzzles and building things, then this 3D wooden puzzle will be a big hit. Once constructed, a ball can be set into motion on this roller coaster puzzle that incorporates working gears and good old ingenuity to bring the design to life.
11.
No products found.
No products found.
No products found.
What's better than a game of laser tag among friends? Your teen will love this laser tag set that comes complete with four guns, four vests, four tactical masks and four protective glasses. The set works indoors and outdoors and will be a big hit with your teen and his friends!

This 3D basketball lamp changes colors with 16 different light patterns to choose from and a remote so that it can be turned on and off from a distance. Whether you use it as a nightlight or as an accent lamp, it's a great gift for basketball fans.

Who doesn't love a drone? This mini drone for for beginners is a great place to start for someone who has never operated one before, and the design is great for a 14 year old who is learning. This particular model can also be used indoors, for better or for worse…

Whether he likes to read, play games, watch movies or check out social media, the Amazon Fire Tablet is a great gift for a teen. It will be helpful for homework, too, which is always a bonus.

If your teen loves baseball then this set of helmets will help him track MLB standings. These replica helmets are a fun way to visually represent MLB standings throughout the season and deep into the postseason.

Does the 14 year old boy in your life love TV and movies? If so, then an Amazon Fire TV Streaming Stick would be a great present because it opens up a world of entertainment options, and having access to Alexa and the Alexa Voice Remote is a fun value-added benefit.

Even though it seems like everyone uses their smartphones as a watch these days, there's something special about giving someone a nice watch and this military steel watch will be his prized possession. In addition to time and date features, this watch is waterproof and comes with an alarm and calendar, and more.

If he's into soccer, then this light up soccer ball is a great gift for him! The LED lights inside the ball come alive when the ball is kicked, making it a great thing for late night practice during the winter when it gets dark earlier. It's also a lot of fun for summer nights at the beach.

LEGO are popular for kids and adults of all ages and if he's a big fan then the LEGO Creator Expert Volkswagen T1 Camper Van will give him a challenge and a great conversation piece once it's done. And if he's a car enthusiast, so much the better. With 1334 pieces, there's no question it will keep him busy.

If he's into sports and playing games, then a magnetic dart board is a great gift because he can play in his room without worrying about putting holes in the walls.

He might be a year away from his learner's permit, but The Driving Book allows him to get some important information down before he gets behind the wheel. Gifting him The Driving Book as a 14 year old means there's plenty of time for him to read about driving and digest this information before he needs it.

Boys love printed shirts and the My Perfect Day shirt is the kind of thing that will look cool and get some laughs among friends. Plus, it accurately describes what gamers love.

Being 14 these days comes with a lot of pressure. There's pressure to get good grades, to do well in sports and to get into a good college. Why not start him out on the right path with this book about how to maximize potential? Sean Covey is known for his 7 Habits books and this book for teens is a great way to get them engaged in living up to their full potential.

Puzzles are fun for everyone, and if you're gifting cash or gift cards then this puzzle box will be the perfect way to give him something fun to play with. It also serves as a piggy bank, which makes it a gift that will keep him intrigued for years to come.

This electric football game let you in on the action. Players use remote controls to guide their team down the vibrating field. The set comes with 85 pieces, everything your teen will need to bring his team to life.
26. Super NES Classic
There is no better gift for a gamer than a Super NES Classic. This machine is a reproduction of the classic NES system and it comes loaded with 21 games and two controllers. It's also a great gift that turns into something fun for the whole family.

Guys love games, and the Potty Putter is a fun gift that might be a joke in the beginning but it's actually a fun gift for teens and their dads alike.

Pac-Man is a timeless character and this retro handheld game system is fun for teens and adults alike. It's a great gift for gaming enthusiasts and teens who like a bit of old-school fun. The game comes with all of the classic graphics and sounds, with an authentic 1980s joystick controller.

There's nothing like fun socks for teen boys. They love their fun socks as much as their fun shirts, and the crazier the better. The Pizza Socks Box comes with four pairs of socks that arrive in a pizza box, making for a fun and memorable gift that also serves a purpose.

If your 14 year old is a travel enthusiast, then this book by National Geographic is a great way to get him excited about exploring the United States. 50 States, 5,000 Ideas: Where to Go, When to Go, What to See, What to Do is full of fun and unique ideas for things to do in every state.

Who doesn't love to sing in the shower? Whether he's a shower singer or music lover, this waterproof shower speaker is Bluetooth enabled so it can connect to all of his devices. It's also perfect for the poolside too!

If your 14 year old is a Star Wars fan then the Duel on Naboo LEGO set will give him something he can build with pride and display for years to come. This set has 708 pieces and includes characters from Star Wars Episode I: The Phantom Menace.
33.
No products found.
No products found.
No products found.
Cell phones are everywhere, but there's something fun about walkie talkies and being able to check in with friends when you're in the great outdoors. If your teen enjoys being outdoors, then these walkie talkies will definitely come in handy.

This easy to use waterproof camera features HD quality videos and 5 MP photos. It has a 1.77 inch screen and can record in almost any setting, making it a fun gift for budding directors. It's also great if your teen loves to skateboard or ride his bike so that it can capture his adventures in full color videos.

The popular Cards Against Humanity game now has a popular version for teens called Kids Against Maturity. This game is perfect for kids and families alike, and if your teen enjoys games and game night then this one is a winner.

If outdoor games are more your teen's speed, then this toss frisbee game is a great option that can be set up at the beach, on grass or on concrete. It's fun for the whole family but it can also be enjoyed solo.

Grab a handle and listen to the music, but don't be the last one holding on or you'll get a big shock. If your teen is into challenging games then the Lightning Reaction game is one that will keep him amused if he has the fastest hands out of his circle of friends.

This is the perfect gift for any football fan and it will help your teen keep track of standings around the NFL. The NFL Helmet Tracker is a fun way to monitor standings all season long.

Don't know what to get the teen boy in your life? Give him the gift of a gift card so that he can choose his own present, or save it and combine it with other gift cards so that he can make a bigger purchase. Gift cards have become the ideal gift these days, and this cupcake tin will work for birthdays and celebrations.
Well there you have it. We've compiled the best gifts for 14 year old boys all in this article. Pick one that suits your needs!
Also make sure to check out our top gifts for 15 year old girls.
(Visited 1,280 times, 1 visits today)