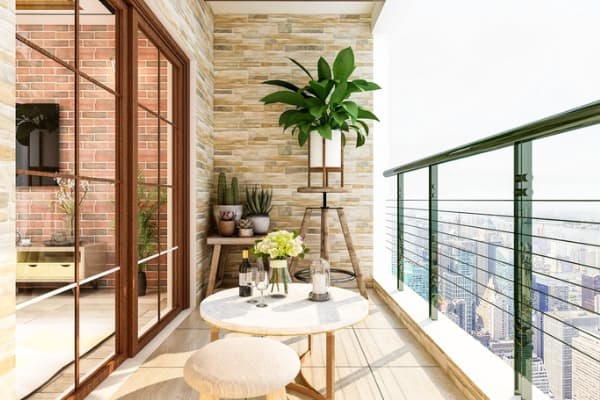 If you crave some outdoor space where you live, you are not alone. Most people want to walk out of their back door into a private paradise and connect with mother nature.
We can grow gardens, have BBQs, enjoy the sun on our faces, and stare at the stars at night. If you have a house with a backyard, you are set. But what if you live in an apartment?
In an apartment, your balcony may not be an inviting space to be in. Most people use it as extra storage because out of sight is out of mind.
They would give anything to have a private outdoor area where they can enjoy nature though. If you have a drab balcony, why not change it? You can go from forgetful to fancy with a bit of effort and some great design ideas.
Here's how you can create a fancy balcony in your apartment.
Make it a second living room
You can transform your balcony into an upscale lounging area with a cozy chair or couch if you have room. Put a coffee table in front and a few essential decor details to bring it together.
Having another place in your apartment to sit and relax gives you more space and creates flow through the kitchen. Use furniture with fabrics that work well outdoors. Plus, have some blankets and pillows stored on a bench for cooler nights.
Install condo balcony flooring
When decorating your patio, don't ignore the floor. It may only be concrete or a vinyl cover, but it can be so much more with an upscale look.
There are great deck tiles that you can install, and they dramatically change the vibe of your balcony and feel fabulous on your feet. The best part is you don't have to screw them down. They float on top of whatever balcony base is there.
Ask professional companies like Designer Deck to install the balcony tiles in whatever pattern you like. Options include rich hardwoods to recycled plastic with wide and narrow boards.
You can even get synthetic grass tiles to insert in a corner for your pet to enjoy too.
Create an intimate dining area
If you are looking for a private place to enjoy a romantic meal with your loved ones, why not have it on your own patio? In an apartment, your eating area is usually attached to your living room because space is limited.
Use that one for everyday eating and transform your balcony into the dining place you've always wanted.
You can create a cozy cafe to transform you to Paris or make it an elegant table for two or four with nice linen and your best tableware.
Add some string lights to carry the mood after dark and enjoy a non-rushed meal that will make memories with family and friends.
Add greenery
Lush plants look amazing on a balcony. You can put planters along the railing to create a barrier with flowers or have a mini garden on one side with some of your favorite veggies.
Make a garden wall to take advantage of the vertical and grow herbs that bring aromatics into your kitchen. Even hanging plants in the corners add a touch of fanciness, and you can build them yourself with beautiful plants.
Have a tropical paradise
Another way to fancy up your apartment balcony is to transform it into a vacation destination. You bring a tropical vibe to the space with lounge chairs and a patio umbrella to shade you while you are enjoying cocktails with your friends.
Add a trendy tall table with bar stools to look over the city as you bask in the sun.
You can even put a small side table with your favorite book to read the afternoon away. Similarly, light some candles to keep the feel of paradise going into the evening.
If you can, hang a chair or hammock to relax all day under the sun.
Create privacy
In an apartment, lots of eyes are around peering into other people's balconies. This may stop you from enjoying your piece of the great outdoors.
You can install an elegant awning if your building allows it to give you shade and shield you from onlookers.
You can put privacy walls made of bamboo at the sides to block out neighbors and give you intimate comfort. Even an umbrella or sunscreens can provide the privacy you are looking for.
When you want to open things up, all these options easily move away to give you a full view of your surroundings.
Apartment living doesn't have to be boring. You can transform your balcony into something fancy with the designer tips above. Work with your apartment's theme or create a new one but ultimately, make your balcony a place that you can't wait to get out on.
(Visited 15 times, 1 visits today)