The terms written lease and rental agreement are frequently interchanged while referring to the same thing. They, however, apply to two different types of contracts.
Leases and rental agreements are both legally binding but each serves a particular purpose.
The primary differences between a lease and a rental agreement are as follows.
Lease Agreement
Before moving into a rental home, many landlords require renters to sign lease agreements. A lease is an agreement between a tenant and a landlord that allows the renter to live in a property for a set amount of time, usually half-yearly or annually.
A contract between the landlord and the tenant binds the parties to the lease agreement.
Residential leases are written agreements between a landlord and a tenant that detail both sides' expectations, such as rent, pet policies, and the terms of the lease.
Because neither party can amend the contract without the other's written approval, a robust, well-thought-out, and well-worded lease contract can help safeguard both parties' best interests.
Rental Agreement
The most major variation between a lease and rental agreement is the duration of the contract. Unlike a long-term lease, a rental agreement provides occupancy for a shorter time, usually 30 days.
Items In Leases And Rental Agreements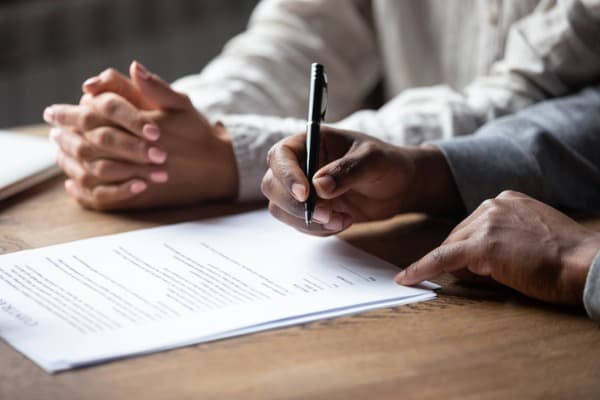 The terms that landlords and tenants agree to observe in a renting relationship are spelled out in a lease or rental agreement.
It's a legal contract as well as a very practical document with important information like how long the tenant can stay on the property and how much rent is payable each month.
Some of the most crucial information to include in your lease or rental agreement are as follows:
Names of all tenants: All adults who are on the rented property, whether or not they are married, shall be included as tenants and sign the agreement. As a result, each tenant is legally accountable for all terms, including the entire rent and correct usage of the property.
Limits on occupancy: Only the renters who have signed the lease and their young children should live in the rental property, according to the agreement.
This protects your right to choose who resides in your home and to limit the number of people who live there.
This clause is valuable because it allows you to evict a renter who brings a friend or family into the property or sublets it without your authorization.
Term of tenancy: Whether it's a rental agreement or a fixed-term lease, it should be stated on every piece of paperwork.
Rental agreements are typically monthly and auto-renewed unless the landlord or renter terminates them. Leases, on the contrary, are usually one year long.
Your decision will be based on how long you want the renter to remain and how flexible you want your rental agreement to be.
Rent: The amount of rent, when it's due, and how it must be paid, should all be specified in your lease or rental agreement.
Deposits and Fees: Landlords and tenants frequently disagree about the usage and return of security deposits. Make sure your lease or rental agreement is explicit about minimizing confusion and legal complications.
Repair and maintenance: Your greatest defense against rent-withholding issues and other issues is to spell out your tenant's repair and maintenance responsibilities in your lease or rental agreement.
Access to the rented property: To avoid tenant allegations of unlawful entrance or invasion of privacy, your lease or rental agreement should spell clearly your legal right of access to the property.
Tenant restrictions on illegal acts: You should add an explicit provision barring disruptive behavior, such as excessive noise and illegal activities, like drug trafficking, to avoid legal issues among your renters, prevent property damage, and reduce your exposure to claims from residents and neighbors.
Pets: Make sure your lease or rental agreement explicitly specifies that you do not want pets. If you accept pets, be sure to include a list of any special criteria.
Lease Agreement vs. Rental Agreement
Depending on the type of landlord-tenant relationship you're looking for, the benefits and drawbacks of each contract fall into a few categories.
The Benefits of A Lease
If you want to remain consistent, a lease may be the best solution. Because leases are constructed for secure, long-term occupation, many landlords prefer them to rental agreements.
Renting a property to a renter for at least a year can generate a more consistent rental income.
Disadvantages Of Leases
However, once a leasing agreement has been signed, the expense of renting is locked in for the runtime of the contract.
Thus, a set rental fee for one year could mean missing out on a substantial increase in income from market rises in a neighborhood with continuously rising property values.
The Bottom Line on Leases
A lease is a fantastic option for landlords seeking a consistent source of revenue, but it may have a negative influence on profitability if the property value rises during the year.
The Benefits of a Rental Agreement
Because a rental agreement is for a limited period of time, it allows for much greater flexibility in terms of rate hikes.
In general, rent can be increased monthly with a rental agreement to keep it in line with current fair market rent, as long as the increase complies with local legislation and the notice regulations that govern month-to-month rentals.
Rentometer is a good tool to use when looking for rental pricing comparisons in your area. It's critical that your tenant realizes that under a rental agreement the landlord has the right to raise the rent rate on a monthly basis.
For renters who can't commit to a yearly lease, a rental agreement is ideal. It may open the door to a large number of qualified tenants looking for a short-term rental.
Disadvantages of a Rental Agreement
A renter seeking a long-term lease may be put off by the month-to-month lease's flexibility, which may expose them to frequent rent increases or indefinite renting durations.
The costs of a higher rate of tenant turnover should be considered by landlords. Furthermore, if your rental is in a low-occupancy neighborhood, you may have difficulty keeping your apartment rented for long periods of time.
The Bottom Line on Rental Agreements
A rental agreement may be a suitable alternative for landlords who want to be flexible, especially in regions where tenants frequently change, such as in colleges and cities.
Conclusion
Understanding examples of agreements will help you choose which agreement to go for. It is critical that you know who your tenant is and whether you want to give a lease or a rental agreement.
Thoroughly screening your rental candidates can provide you peace of mind that you're putting the right person in the right place.
(Visited 7 times, 1 visits today)