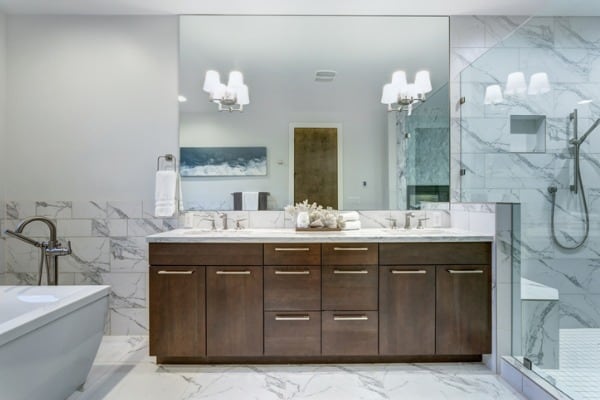 When decorating or designing a space, finding the right mirror is essential.
A mirror opens up any room while adding depth and creating the illusion of a larger space.
With many framed and frameless mirror options, it can be challenging to decide which one to go with.
Frameless mirrors are a more modern option that adds versatility and blend in seamlessly with the decor of your choosing!
Let's take a look at 5 ideal places to incorporate frameless mirrors and why they're the best option.
Tiny Homes and Small Apartments – create an illusion of space
If you live in a tiny home or have a small space, decorating can be a little difficult.
Frameless mirrors will not only give the illusion of a much larger interior but will also fit better in tighter spots.
Adding these kinds of mirrors will help with the flow of the space.
The frameless option offers a harmonious look, whereas framed mirrors will only make your home appear much smaller, which usually isn't the look you're trying to achieve!
With frameless mirrors of all shapes and sizes, you're sure to find one that works in a tiny home, while adding character and charm.
Office Bathrooms – add a little glam in a corner of workplace
You can't have an office bathroom without a mirror! Of course, you'll need to decide whether a framed or frameless option suites the bathroom best.
Choosing a frameless square mirror like this will present a more polished and professional look.
It adds a little glam to any workspace, leaving a lasting impression on employees and/or clients.
A framed mirror, on the other hand, may darken the space, especially if the frame is brown or black.
This will make the office a less enjoyable space to work in, meanwhile, a frameless mirror is inviting and will add more light!
Choose frameless and see how it transforms your office overnight.
Small Bathrooms – add a feel of spaciousness
There's nothing worse than feeling boxed into a tight space. Small bathrooms can be problematic during the design phase, as it's tricky to decide on what to include or what options to go with.
Frameless mirrors are the way to go in a small bathroom, as they will not only open up the small and make it seem larger but also allow you to think about how minimalistic designs in bathrooms can go a long way!
You should avoid using framed mirrors in small bathrooms if you have the option of going frameless.
The frame will make the room appear dark and more cluttered than it actually is. Mirrors for bathrooms – see here, are a more elegant option and is better suited to any small space!
Fashion Outlet- create a pleasant shopping experience for customer
Shopping wouldn't be the same without mirrors. Whether you're trying clothes on or want to see how an accessory would fit a certain look, having a high-quality mirror is fundamental!
Choosing a frameless mirror will provide a better shopping experience for your customers.
That's because they don't take away from the product or item you're trying to sell and instead will better showcase them!
The best option to go with would be a frameless LED mirror.
They're ideal as they will draw in new and returning customers and add to the overall design of the space, making it look truly fabulous.
You could also choose a decorative frameless wall mirror for a fashion outlet to give the room some personality!
They're also great if you're looking to occupy an empty space that's looking a little bare.
Select a style unique to your brand and pair it with artwork or other decor to complete the look!
Wardrobe- craft a style with simplicity
Finding the right mirror for your wardrobe will either make or break the entire look and design.
Wardrobes are a very personal space, so you should make it your own with a custom style!
Framed mirrors will change the look of your wardrobe and take away from the simplicity that you want.
A frame often looks bulky, which isn't usually what you'd seek out in this type of space.
Custom cut frameless mirrors installed on the front of the wardrobe has a great way of making a room look elegant.
The frameless mirror will fit like a glove and complete the vision, while simultaneously making the room appear wider!
Are You Ready to Go Frameless?
It goes without saying that frameless mirrors are in and framed options are a way of the past!
While framed mirrors are still a good option for certain locations, frameless mirrors have stolen the show and demonstrated how functional they can be in a range of places!
When you're ready to purchase one for yourself, Fab Glass and Mirror offers a variety of frameless mirrors of the highest quality!
They come with hooks, making the process of putting them up that much easier. Order online today and complete your newest space in the blink of an eye!
(Visited 13 times, 1 visits today)