Some of the links in this post may earn me money when you purchase from them. This is at no extra cost to you, but helps me out. See the disclosure page for more information.
Last summer I read something about how soft play is great for toddlers' cognitive and physical development.  Never hearing the term, I figured soft play meant toys that aren't plastic, but rather, soft.
Needless to say, I was wrong.
*After writing this post, I contacted Amazing Adventure to see about any incentives for my promotional write up.  They sent me out some indoor playground passes, and I'm sharing 2 with a lucky winner!  Be sure to enter here.

After reading a bit more about it, I realized soft play refers to indoor playground type facilities with loads of foam (and germs?).  I quickly started researching the closest arena to us.  Unfortunately, it's 2+ hours away!
So, when we were planning a trip to Regina for a hotel + water-slide overnight before the new baby was due to arrive, I figured we should take the opportunity to check out Amazing Adventure.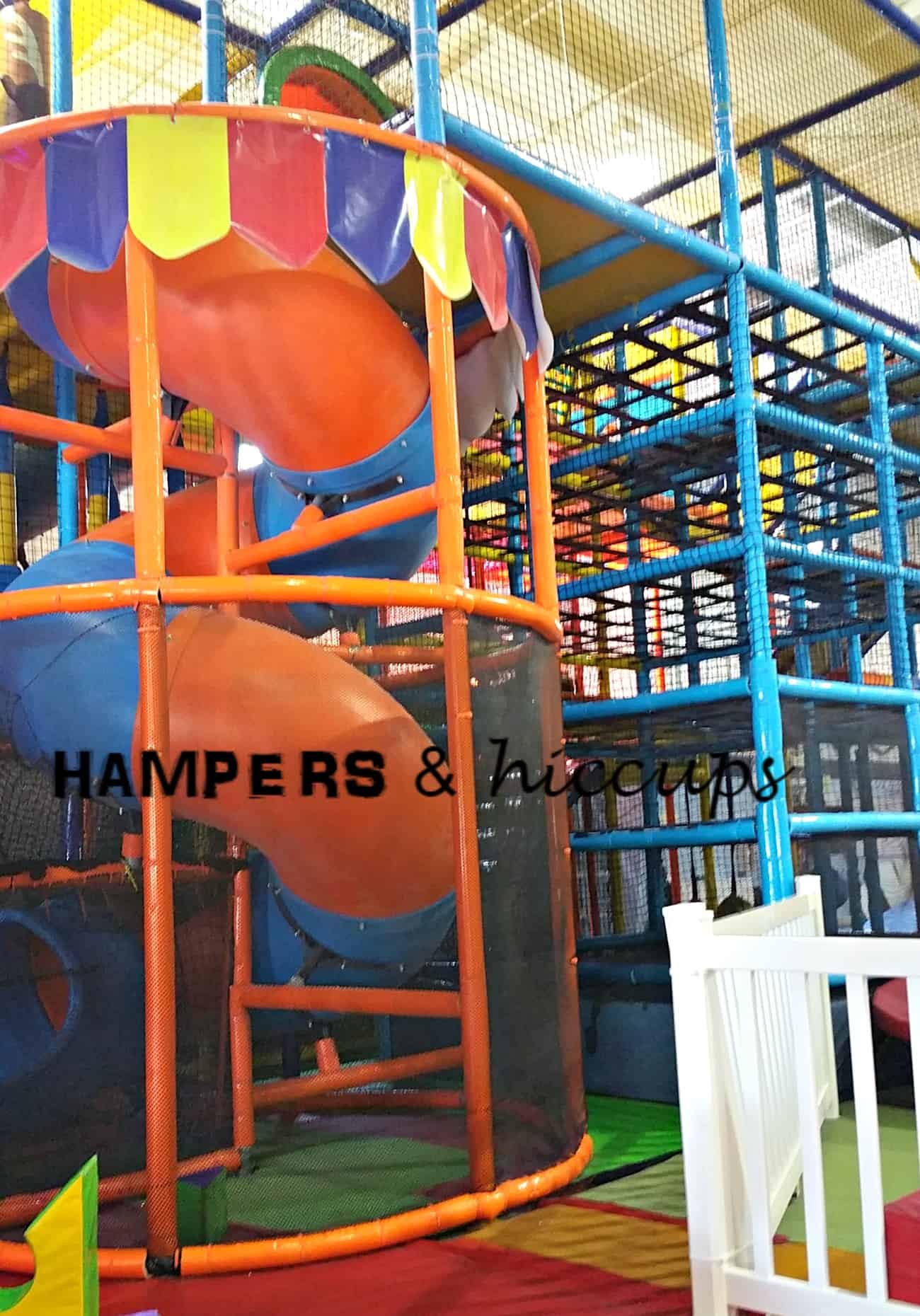 On the weekends, Amazing Adventure soft play indoor playground is open 9am – 3pm.  We planned to arrive around 2 or shortly before, figuring Sweet Girl would have enough after an hour anyway.  Once we payed our admission – $6 for children walking to 12 years old – we set up and played!
It took our 1 year old a little while to get warmed up to the area, but once she was she had a blast running around, climbing and sliding.
Tip: Wear pants.  We had Sweet Girl in shorts at first but quickly realized that wasn't a wise choice for the slides.  Of course I had extra clothes for her in the vehicle.
Sign up here to get your free Diaper Bag Checklist!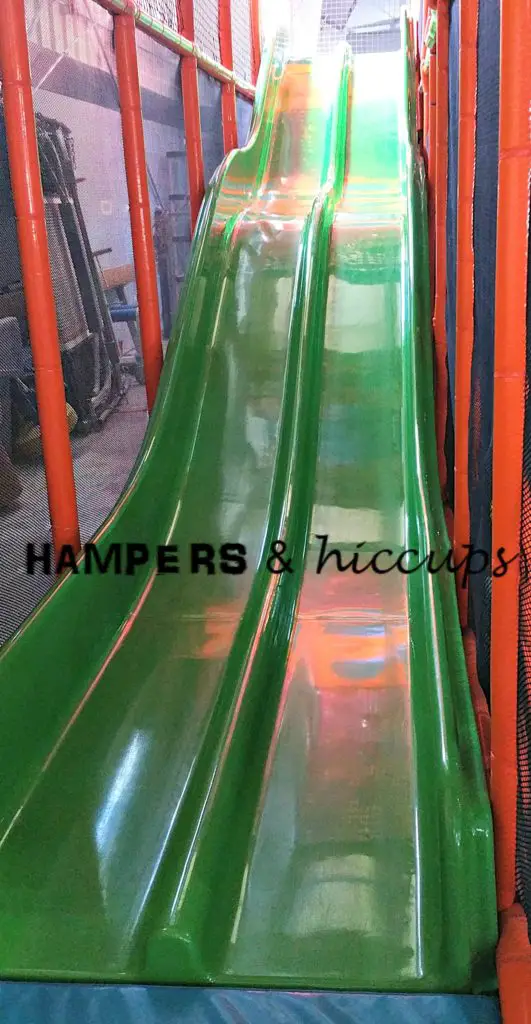 Since I was roughly the size of an ogre, my husband chased our daughter around most of the time while I sat on the comfy foam "benches" or walked around taking pictures.  What I was pretty impressed with was the ease at which they both could maneuver the playground.  It's accommodating for small toddlers as well as helping adults.  That being said, I did hoist all of me + baby around the entire structure, save for the spider web area, and even went down the tube slide!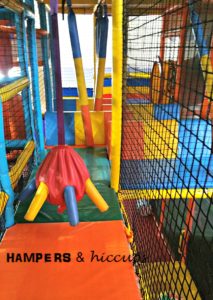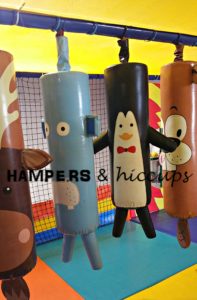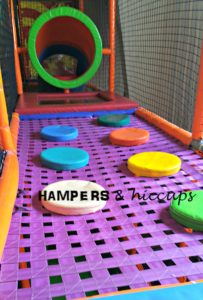 For little ones, and those who don't want to brave the soft play structure, there's other forms of adventure.  A foam pit, riding toys, climbing + sliding structures, a rocket ship, kitchen and train track all encourage open ended play.
Take my What Kind of Parent Are You? Quiz here.
Amazing Adventure Soft Play Indoor Playground in #Regina is the best place to take your kids! Fun for all ages! #YQR
Click To Tweet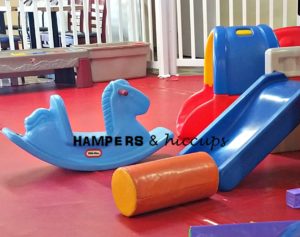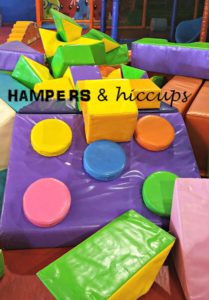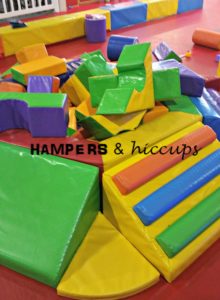 Amazing Adventure also boasts a massive gymnastics area where they offer all sorts of gymnastics, tumbling and cheer classes.  This area is cordoned off to the general public, but visibly accessible.  For a full listing of the courses offered, as well as special theme parties, see the website.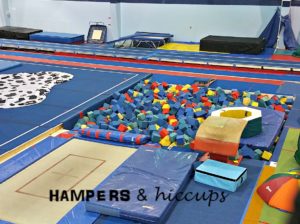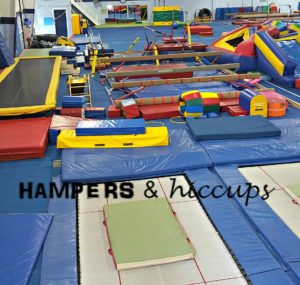 Bonus: You get free access to the soft play indoor playground for children registered in a program; siblings get a discount during classes.
What I found to be especially unique is the café inside.  There's a great little menu for pastries and specialty coffees, as well as an area with tables and chairs – all right beside the soft play indoor playground.  If my kids were old enough to play on their own and I needed a break, I'd totally hit that up!  Although, I'd be taking a hot chocolate or tea!
Once the 3 o'clock mark rolled around, we put our shoes back on and proceeded out the building, onto our next adventure.  Next time we'll have to plan to be there longer!
Do you have a soft play center near you?  What has your experience been?
If you liked this post please pin it and share on twitter.  Don't forget to follow me.  Pinterest    Twitter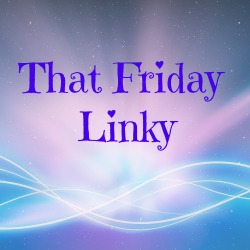 Hop on the Happy Homemaking Train
Subscribe to get the latest and greatest from hampersandhiccups.com
You'll be informed of great new posts, special offers, give-aways, FREEBIES and more! Plus you'll be automatically entered into any new opt-ins (which you can unsubscribe from at any time).
Don't miss out on a thing, join up now!