Smaller bedrooms get cramped and can easily make you feel claustrophobic. However, there are numerous DIY solutions to make your small bedroom appear bigger.
Couple some DIY renovation with the right space-saving hacks, and you could transform your crowded bedroom into the cozy heart of the house it deserves to be!
So, grab a pen and a paper to jot your preferences, because we're about to go over some of the internet's best small bedroom design tips and space-saving hacks!
1. Use Low-Height Furniture
The bed is often the biggest piece of furniture in the bedroom, and beds tend to be lower to the ground.
So, using shorter furniture will make your walls look bigger and your ceiling taller, giving your entire bedroom a cleaner look.
Shelves and nightstands MUST be roughly the same size as the bed – it reduces the scale of your room's furniture, making it feel a lot more spacious!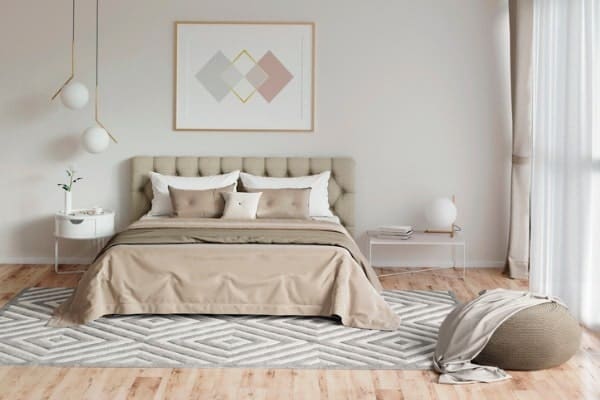 2. Make a Folding Table
For a lot of us, our bedroom table is primarily where we get our work done. However, a full-size table will cramp up your space. Using a smaller table just makes things more uncomfortable for you, and only makes your bedroom a tiny bit more spacious.
Unacceptable! But, there's a smarter solution!
YouTuber TheIdeaBox's folding table is easy to make and will look great. He drills a piece of plywood into his wall and attaches hinges to it for the table plank.
After connecting the plank, he screws hinges to the legs and attaches corner brackets to help hold the folded legs in place. While his design is excellent, make sure you use white melamine laminated plywood instant of regular plywood – it will make the table look modern and sleek!
Source: YouTube | TheIdeaBox
3. Keep the Bed on the Ground
Putting your mattress on the ground is a great way to give your small bedroom the illusion of spaciousness.
Your ceiling will look higher, and the expansive wall space gives you a lot of opportunities for storage (something I touch on later). But to make the illusion work, you have to couple it with tip #1 on this list and use smaller furniture.
Using larger furniture with the bed on the ground will make the whole space disproportionate, and in some cases, downright ugly.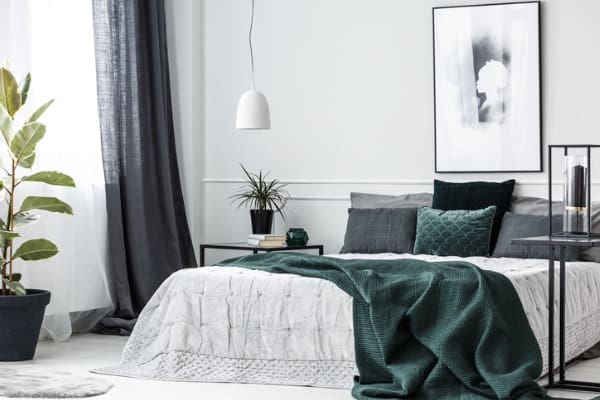 4. DIY a Wall Bed
Constructing a wall bed is a great way to make your bedroom instantly spacious.
A wall bed works great if you work out of your bedroom and want more space for your work area. It's also an excellent solution if you have an extra room that you want to convert to a guest room at will.
Katie, from the Addicted 2 DIY blog, convinced her husband to build a DIY murphy bed that incorporates shared desk space. It sounded undoable, but they pulled it off with plywood of different thicknesses and some elbow grease.
5. Get Rid of the Old Headboard
Plain headboards are undesirable in a small bedroom, and pulling yours apart will make your room look less cramped.
However, DIYing a small, functional headboard with floating nightstands and shelves will make the space neater and also give you some storage space. It's a lot easier than it sounds – all you need is plywood and inspiration!
Here's some: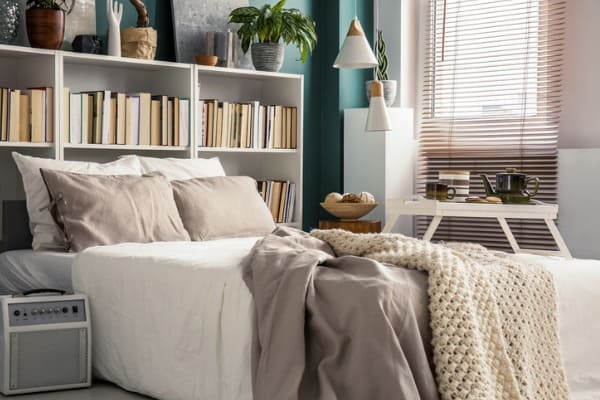 6. Use a Transformable Bed
If you often have friends over, or just like sitting on a couch better when you watch TV, you can use a transformable bed. A lot of these also come with built-in storage, and these are the ones I recommend you get.
7. Keep the Curtains Short and High
Small bedrooms have small windows. But you can make the window look bigger by keeping the curtain as close to the ceiling and as far off the ground as possible.
Don't believe me? See the illusion in action: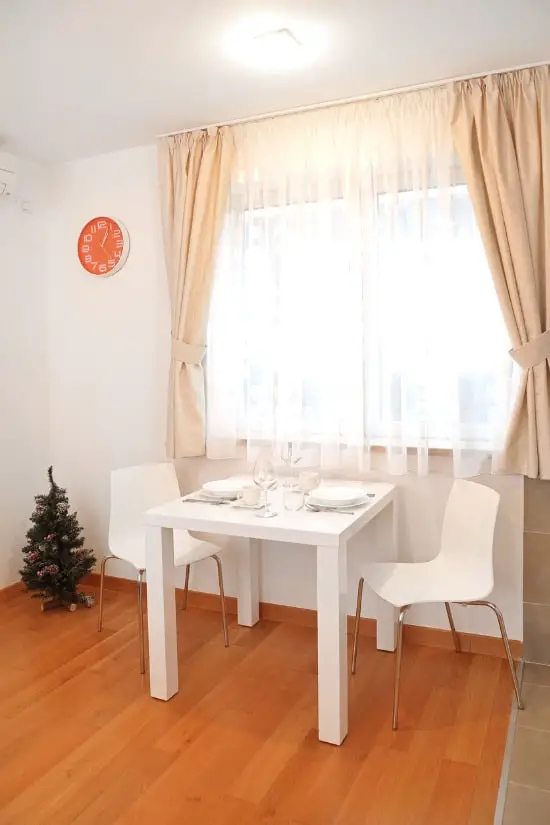 8. Make Good Use of Vertical Space
Shelves attract the eyes, and installing shelves in the right spot will make your bedroom look more expansive and also give you much-needed storage space.
The more you store on shelves on the wall, the more floor space you will have. But be careful that you don't overdo it.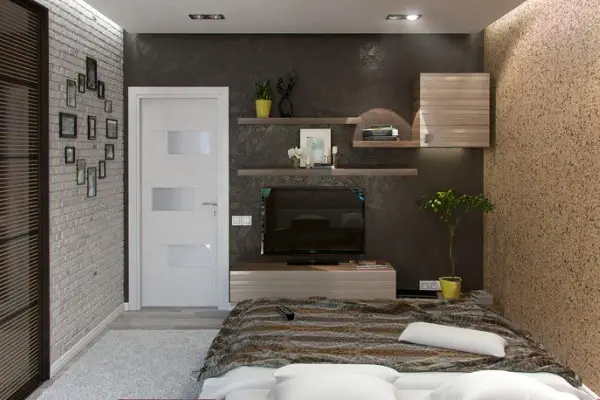 9. Add a Mirror Door to Your Closet
Mirrors give the illusion of additional space and also reflect the light in your room. You could add a mirror door to your closet instead of getting a full-length mirror that cramps up your room.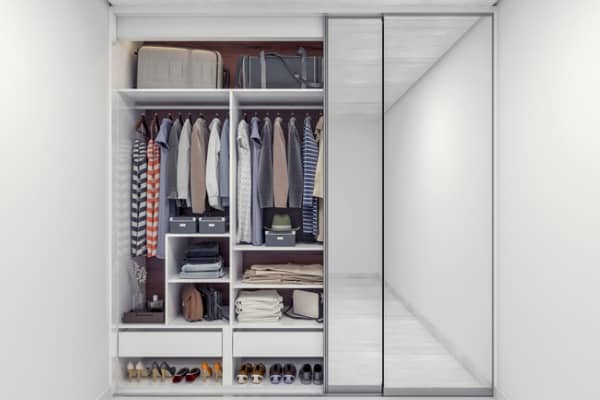 10. Paint the Room with Bright Colors
White is the go-to color for small bedrooms since it makes the room's elements flow into each other.
However, if you find white too boring, you can use light colors like yellow, orange, and lime while keeping the trims of doors and windows white. If you choose to use these colors, you must remember to use linen that complements the color of your room.
It will enliven your room's feel and make it look a little larger than it really is.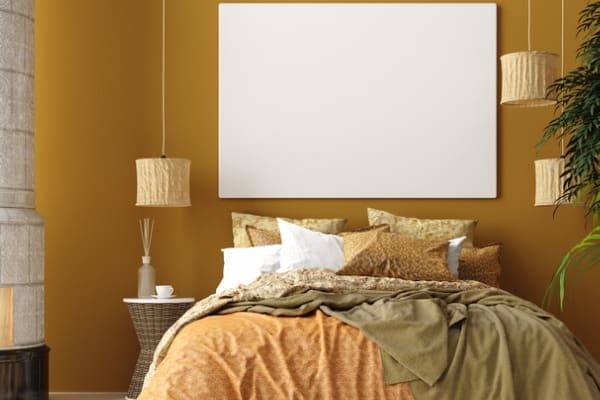 11. Don't Use a Nightstand
You can install a floating shelf instead – it'll look neater and also give you space you need to put your phone and glasses away.
If you need a lamp, you can use sconces – they look modern, declutter your bedside, and give it a much cleaner look.

BONUS SMALL BEDROOM DESIGN TIP: Use Furniture with Legs
Now, not every piece of furniture in your room needs to have legs, but legs trick the eyes into seeing more floor and wall, making the room appear bigger.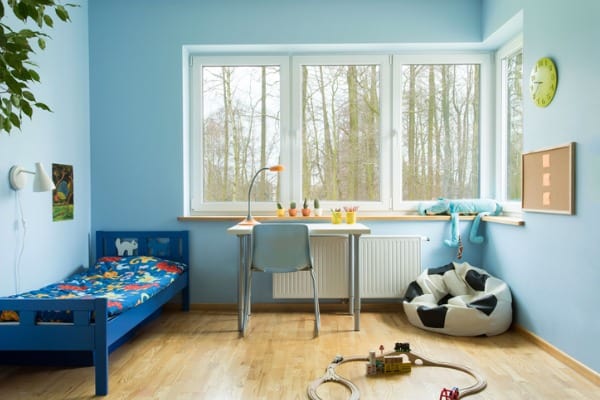 —
And that concludes my list of small bedroom design tips. The examples on this list prove that it doesn't matter how small your bedroom is. If you're ready to put in the work to make your room feel more spacious, you will!
And with this list handy, your job got a whole lot easier.
Make sure you use as many as you can to give your small bedroom new life!
(Visited 40 times, 1 visits today)