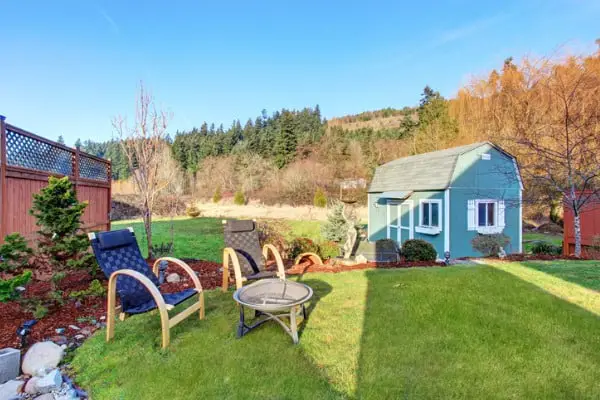 You couldn't do your garden a better service than by complementing its landscaping by painting the shed the right color.
Not only will your garden look better, but it will also give it a personal touch. And personal touches are what make a house a home.
But finding shed paint color ideas can be a challenge in and of itself. There are millions of ideas you could go through.
Putting in all that work just isn't practical – so we did the heavy-lifting for you.
Here's a list of some of the best shed paint color ideas on the internet.
#1 Bold Brown
If you have a smaller shed and have many flowerpots and planters, painting your shed dark brown would give it a lot of character. It would also contrast nicely with the grass and the planters around it.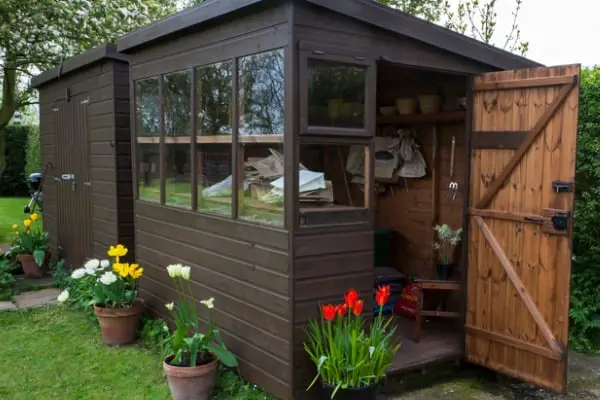 #2 Coy Green
If you have a shed close to a brick wall, painting it light green will not only give it a personal touch, but it will also complement your garden perfectly. Painting the shed light green is also a good idea if you have a lot of stones in your garden.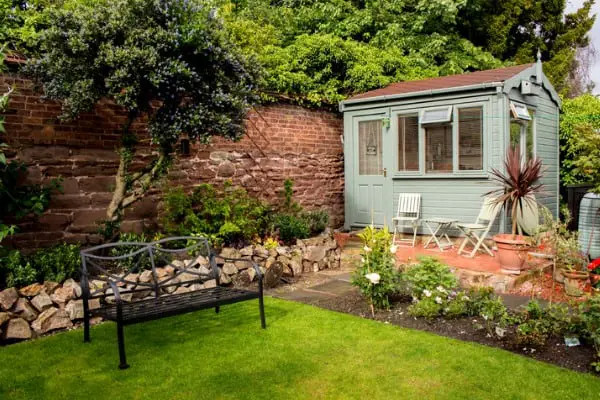 #3 Profound Grey
If you love gardening and have several plants in your backyard, painting your shed a soft shade of grey will make the plants "pop."
Painting the shed grey is also a great idea if you have a concrete pavement leading up to it or right next to it.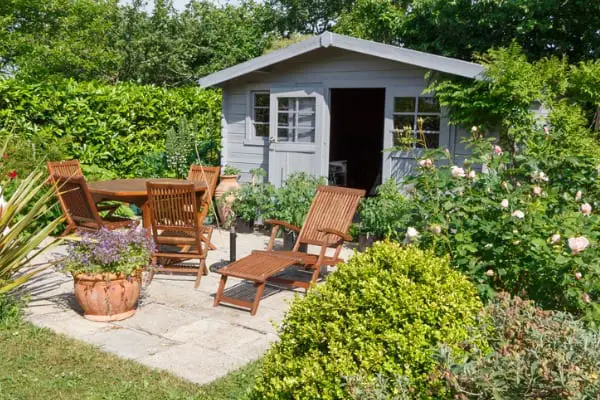 #4 Lively Green
Giving your shed green accents is often all you need to do to give it a touch of personality. However, keep in mind that green accents look best on smaller sheds – if you get a large shed, it may not look good.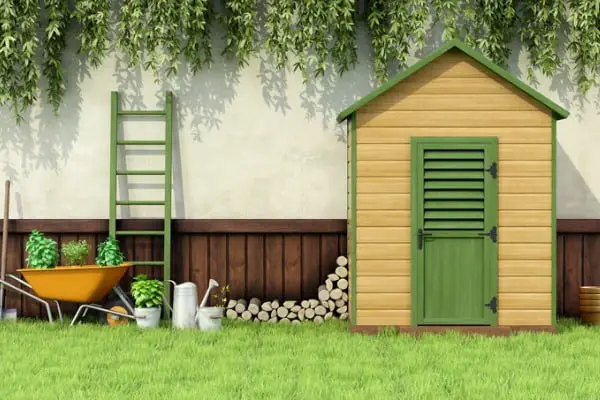 #5 Welcoming Blue
If there is a lot of dirt and trees around your shed, painting it blue and the accents white will give the shed a beautiful look.
Avoid painting it brown or green in such a circumstance – the shed may blend in with its surroundings too much, giving it a bland look.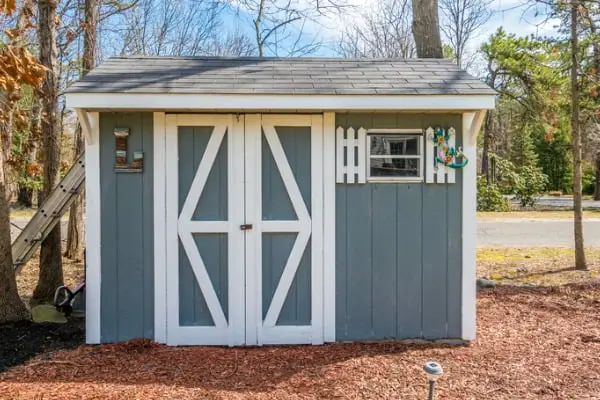 #6 Enticing Red
Painting your shed a sophisticated firecracker red is an excellent idea, especially if you have a smaller shed. You don't want the red to take the eyes away from the real star – which is the garden.
This is never a problem with a smaller scale building, but if you have a build a bigger shed, it isn't a bad idea to paint the accents white.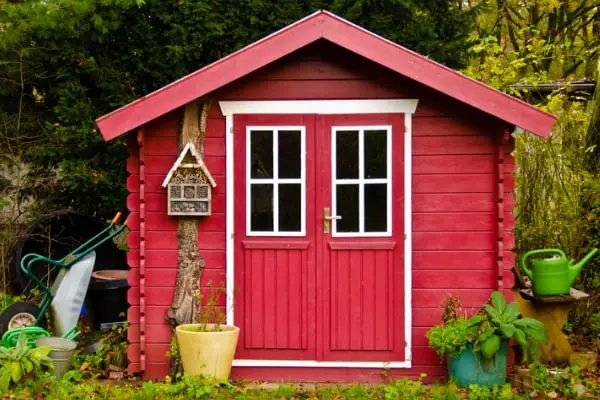 #7 Graceful White
If you live in a sunny location, and your shed has dirt or pavement around it, you cannot go wrong with white. It'll make your entire garden look a lot more refined!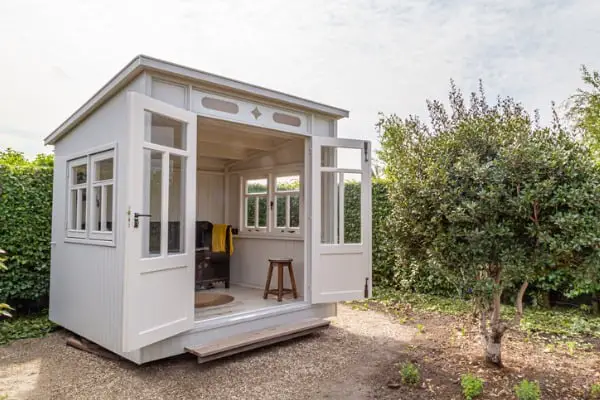 #8 Unabashed Brown
If your shed is made from corrugated steel, it's best to paint it brown. The unabashed nature of the color will not only make the shed look more natural, but it will also complement the garden it's in.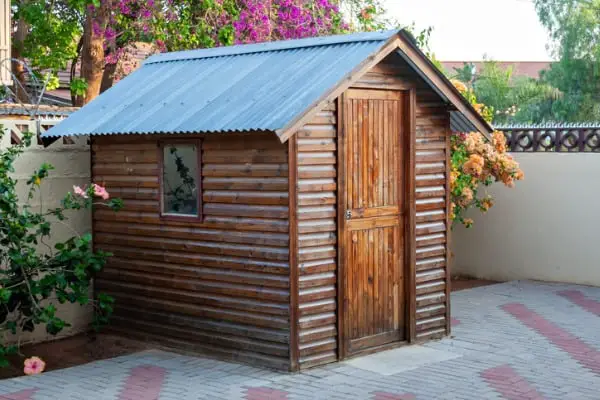 #9 Modest Blue
If you live around the forest or have a lot of trees around your shed, there's no better way of elevating the look of the landscape than painting it light blue.
The light blue tone of the shed, coupled with white accents, will give the shed a modest, elegant look.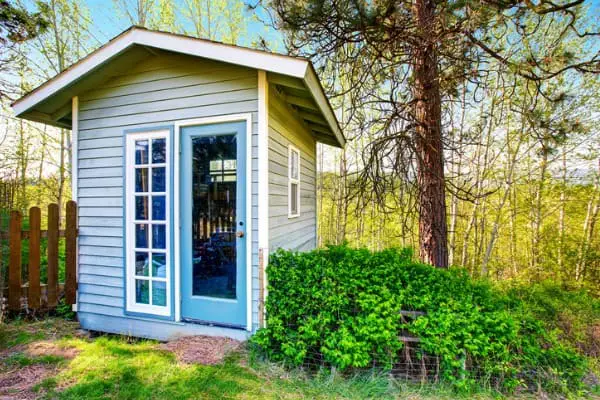 #10 Rustically Plain
Sometimes, not painting a wooden shed at all can work wonders. It works best if your shed sits on a concrete pavement.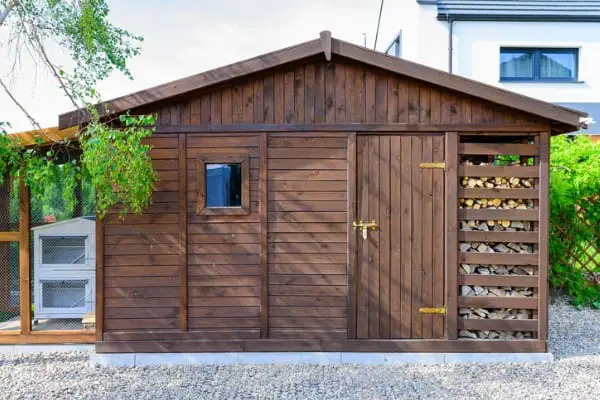 #11 Elegant White with Grey
If you have a pathway leading up to your shed, or maybe have a flowerbed that leads up to it, painting the shed white and the accents grey will give the shed a beautiful look.
#12 Refined Blue with White
Painting the shed's body sky blue and the accents white will complement both your home and your backyard.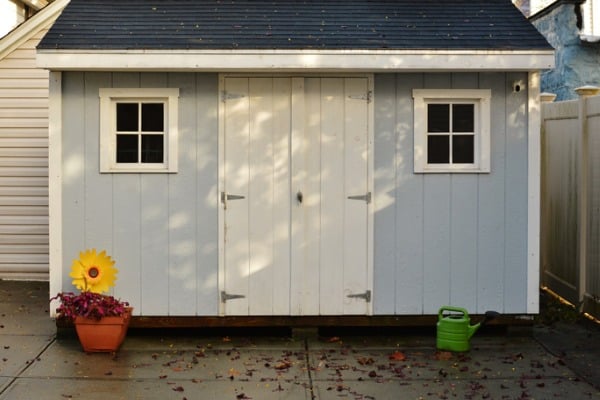 #13 Cultivated Cream
Painting your shed a pleasant cream color is an excellent idea if it has gravel around it.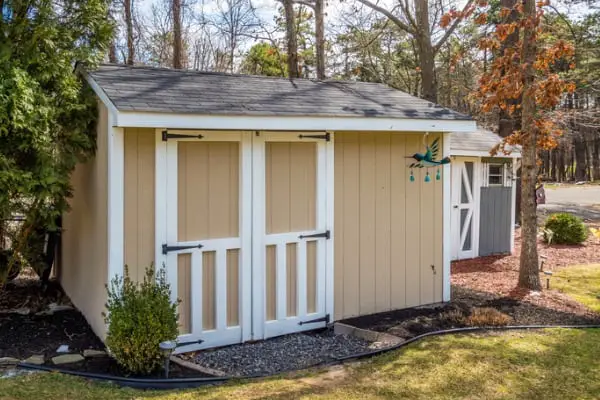 #14 Classic Red
Paint the body of the shed salmon red, and the doors and windows barn red. The contrast on the shed alone will elevate the look of your entire garden.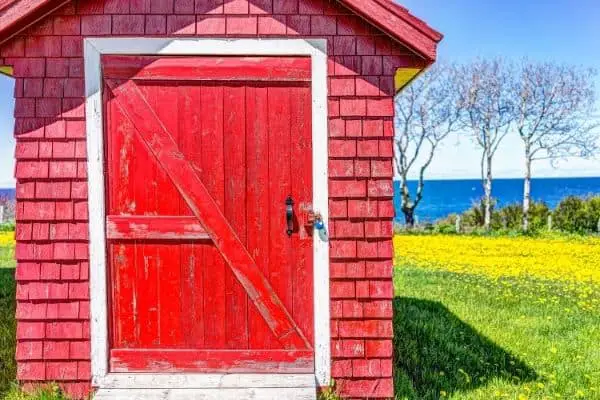 #15 Spirited Green
If your shed has a small glass window, painting it sage will give it an adorably spirited look.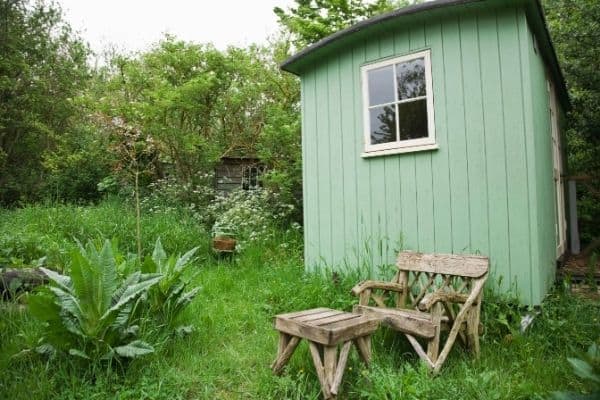 —
Every home is unique and tells its own story. Your home's interior represents your personality perfectly, so why shouldn't your home's exterior?
Enhancing your property with an outdoor garden shed to complement your home and giving it a touch of personality is always a great idea.
And with our list of shed paint color ideas, finding the right colors just got easier.
(Visited 119 times, 1 visits today)