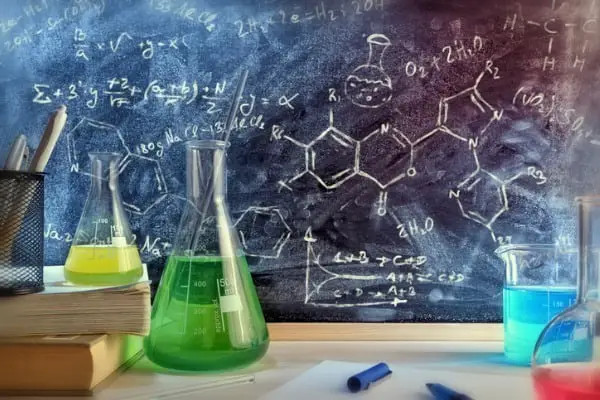 Science is fun! If your kid loves science, having a science birthday party theme is the best thing for the little munchkin.
You can bet your child's friends will enjoy the theme, too – which will only make the party that much more special!
Let me make putting it together easy for you.
Here are some of the internet's best DIY science birthday theme ideas!
1. Mad Scientist Party
Amy Locurto put together a very special science birthday party for her six-year-old son.
It had a multilevel cupcake installation and a dessert table inspired by various science lab instruments!
Amy's birthday theme idea also involves a few printable items such as "Open with Caution" stickers and a complete lab set up for kids.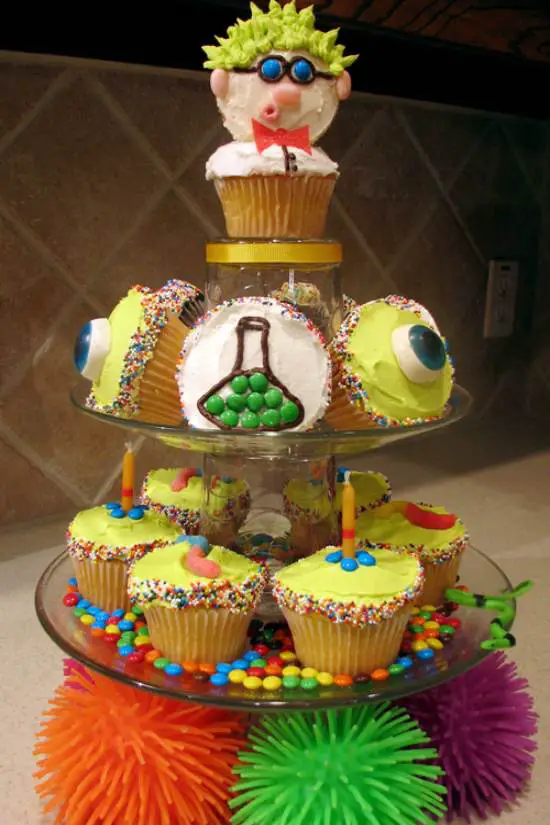 It's so intricately put together! Find out how Amy did it on Living Locurto.
2. Scientist Lab Theme For 10th Birthday Party
Blogger Momma spent almost six months planning her child's 10th birthday party.
She gives a detailed account of how she planned the birthday theme, DIY'd the invitations and the decorations, and created a lab check-in experience for the little scientist and his buddies.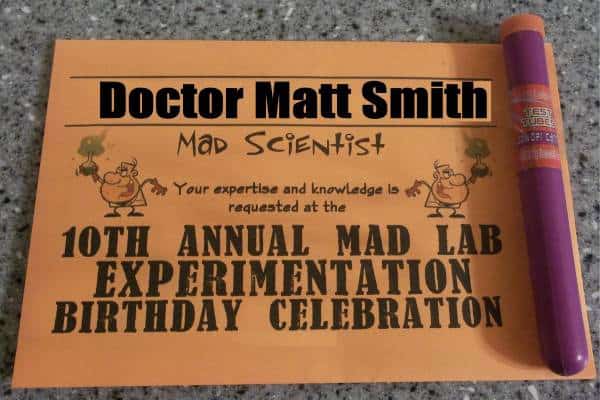 You can find Momma's comprehensive plan here.
3. Science-Inspired Dessert Party
Stephanie from Spaceships and Laserbeams experimented with science-inspired dessert concoctions with a black chalkboard background for her kid's birthday party.
Printables by Lindsay Pasichnyk were cut and styled into various shapes imitating a science classroom or a lab.
Scientific formulas were hand-scribbled on the printables, and the party table was covered with a geometric print tablecloth.
So cool!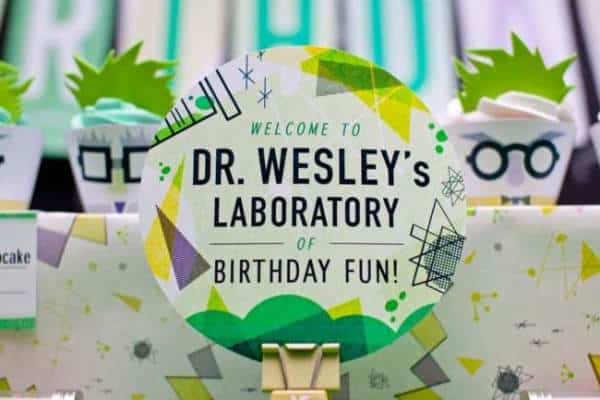 Stephanie breaks down her party plan over at Spaceships and Laserbeams.
4. Chemistry Lab Party (With Games!)
Char transformed her home into a full-blown chemistry lab for her son Christian's 9th birthday using nothing but standard party supplies!
The kids wore lab coats, identification badges, safety goggles, sterile gloves, and polka-dotted bow ties. Adorable!
But the awesome display area was really what sold the theme!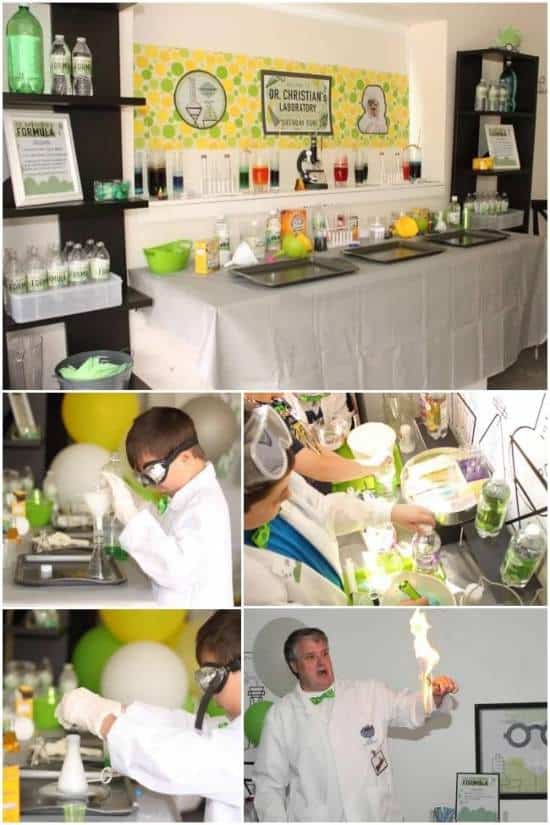 You can find Char's plans on the Spaceships and Laserbeams blog.
5. Crazy Scientist Birthday Cupcakes
Cris from Crissy's Crafts celebrated her son's 7th birthday with a "crazy scientist" birthday theme with various birthday party games and birthday party decorations.
Cris turned their dessert table into a real laboratory with edible sweets like bacteria cultures, crystal rocks, and lab rats. Props were decorated to look like test tubes, and she even added fake bacteria in the Petri dishes!
The background had a fun wall decal, and the birthday party invitations were custom printed.
But the party table with the scribbled scientific formulas is the detail that stole the show!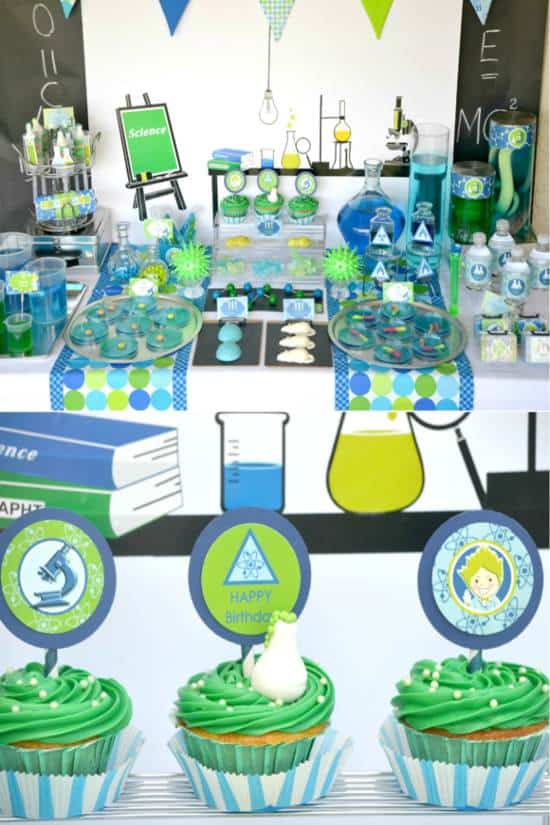 Cris even created mad scientist projects such as Crystal Bubbles, Glitter Green Slime, and a Lava Lamp to keep the kids engaged! You can read all about it on Bird's Party.
6. Periodic Table Birthday Party
I was in awe when I saw the laboratory flask cake and the periodic table sugar cookies in Kara's birthday party plan.
Kara, from Kara's Party Ideas, spent a month detailing the birthday party food ideas and birthday party invitations. She created an elaborate lab set up with a fantastic black chalkboard backdrop to make it look authentic.
The flasks were full of candy, and the colorful beakers and other science equipment were neat details! The "proton pop" was a favorite too!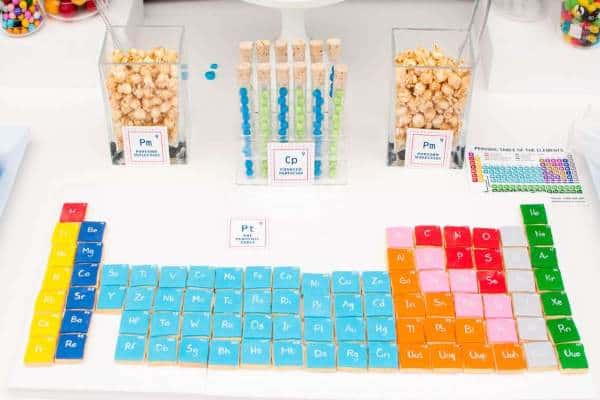 The kids were clothed in lab essentials with cute little identity cards hanging around their necks. Read more about the adorable party plan on Bird's Party.
7. Molecule Balloons Party
Andressa Hara writes about how she created DIY molecule balloons with colorful embroidery hoops she found at a local craft store.
She created these molecule balloons and hung them over the birthday party table setup.
There was a slime cake, and drinks were served from science beakers!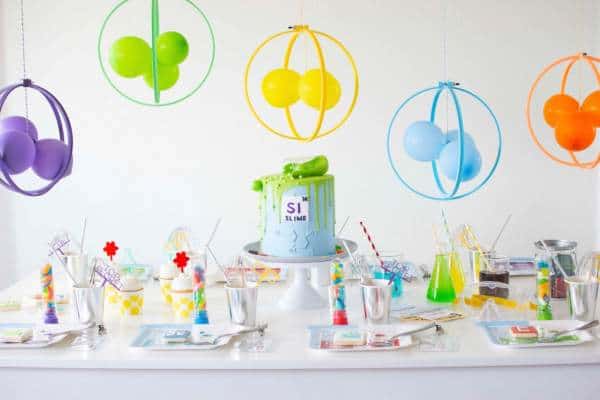 Andressa Hara details her process on Twinkle Twinkle Little Party. 
8. Creative Birthday Party Invitations
It's an excellent idea to kick-off your science birthday party plan by designing creative birthday party invitations. You can get your kid involved, too!
Print out an HD image of the periodic table, and on the back of the picture, pen the invite in cursive writing. You could include a mysterious code and offer a prize to whoever solves it!
Buy touchable bubbles and attach the invitation card to it. These touchable bubbles do not pop and are generally available in a neon test tube.
Alternatively, cut a piece of construction paper in the shape of a flask. Use blue or green glitter to cover the surface. Attach the flask to a paper bottom with glue and add the party details on the body of the flask
Invitation = READY!
Couple the invitation with a child-sized lab coat and safety goggles if budget permits!

9. Creative Birthday Party Food Ideas
Hotdogs, hamburgers, and cookies are typical birthday treats.
But, since we are doing a science-themed birthday celebration, why not add some scientific twists to these regular treats? Wouldn't that be awesome?
Start by creating colorful molecule-shaped fruits with honeydew, watermelon, or cantaloupe. Scoop out balls of fruit with a scooper, and use toothpicks to stick the balls together, making the fruits look like molecular chains.
Berries like blueberries and gooseberries can be used to create smaller molecular chains.
Next comes the elemental sandwiches. Make sandwiches of any kind; cheese sandwiches and turkey sandwiches are favorites!
Then cut them into even squares. Use cheese to write the abbreviation of any of the elements from the periodic table on top, and your treat is ready!
You could also make some pizza and put together a pizza party involving the kids!
Make them wear gloves and goggles first. Introduce them to various pizza, making ingredients and small pizza doughs. They can experiment and learn to make their own pizza, too, this way!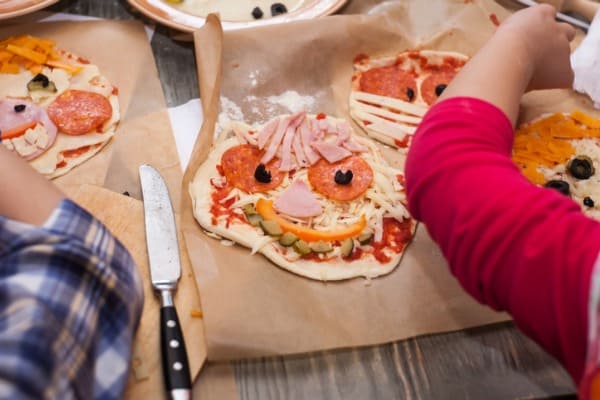 10. Birthday Party Favors
Space ice-cream, noise putty, bounce putty, touchable bubbles, bath color tablets, and crystal rock candies are some excellent party favor ideas to send the kids back home with!
—
Birthdays are a lot of fun!
Unleash your creative side with these DIY science birthday party ideas, and you can be sure that you're creating memories that will last a lifetime.