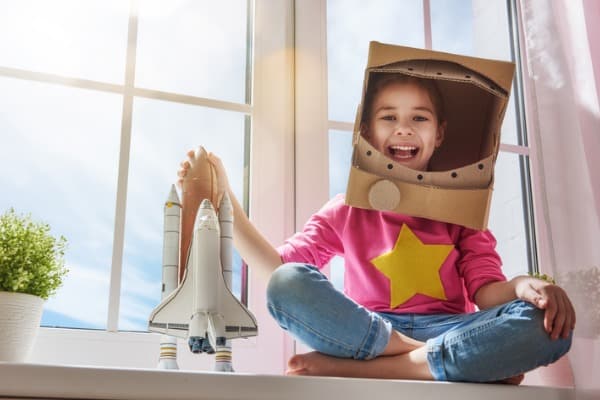 It seems that every time a rocket or space launch happens there is some fun and intriguing excitement created around it. It's no wonder that your five-year-old child wants a rocket ship of their very own.
You might not be able to send them off into outer space, but there are plenty of fun rocket ship toys or decor for five-year-olds you can buy today. All of the toys suggested here are great gifts for both boys and girls.

The USA Toyz Rocket Ship is one of the few toys that your child can get inside. It's a tent that you set up inside your house. Is it raining outside, or is the weather miserable? If so, don't sweat it, pop up this tent and invite a few friends over for a few launches to space.
Pros
Collapses for easy storage
Easy to clean
Lightweight
Room for several children
Cons
It's not meant for outside
Maybe not the best toy for small apartments
Pets might rip the thin tent material

The Duckura Jump Rocket Launchers for Kids takes your child's love of everything space to a whole new level.
Your child watches rockets launch on television and in school. Now your child can launch a rocket in their backyard.
The rockets are soft and go surprisingly high with a few pumps of your feet.
The best part is you get a little bit of exercise with this toy. Always a plus!
Pros
It's fun to watch the rockets go up
Comes with three rockets so multiple children can have their own
Gets your kids outside and not inside playing video games
Cons
Adult supervision is recommended
Must be used outside
Children must be patient to wait their turn

The LEGO City Satellite Service Mission is a space shuttle and astronaut set. LEGOs are great toys to build up your child's hand-eye coordination and thinking skills.
The kit has 84 pieces (not hundreds), so it won't be too difficult for your child to put together. It's just challenging enough to keep your child occupied, without being so difficult they'll put it down.
Pros
Learn about the space shuttle
Your child can put together the kit multiple times
Play with it alongside your other LEGO toys
Cons
LEGOs hurt if you step on them as any parent already knows
You'll end up buying other LEGO kits because you can't have just one
If you lose a few pieces, the kit may become useless

Any surface can become a launchpad or landing area. A little creativity is all it takes to make this toy feel like it's on another planet.
This toy rocket comes with two astronauts: allowing for siblings or friends (or dads!) to play along with their intergalactic adventurer.
Pros
Simple to use and younger children can play along
Comes with two astronauts so more than one child can play along
Can be played with indoors or outdoors
Cons
The toy may be too simple for some children
Lacks anything remotely exciting
Not much older children can do with it

Give your child the feeling that they're accomplishing something by having them work on their own rocket.
This cute rocket comes with an astronaut and a puppy. Prepare the astronaut's rocket so he and his dog can blast off into space.
Pros
Great for hand-eye coordination
Teaches children how to use tools
Perfectly designed for the little hands of your child
Cons
Three AAA batteries not included
Child may get bored quickly with the drill
Sharing may be difficult with this toy

Finally, a rocket toy that many children can play with. The KidKraft Rocket Ship Playset has plenty of pieces and parts to keep several children busy at the same time.
The children will learn about space and rockets while having plenty of things to keep them busy.
Pros
A toy several children can play with
Learn about space
Crane fun to play with
Cons
Toy requires some assembly
Takes up more space than other rocket toys
Moving parts may break with intense use

Every child fantasizes about what it would be like to be a NASA astronaut. Your child's fantasy becomes a reality with this space shuttle. The space shuttle comes with a figure and a life-like replica of the famous NASA vehicle.
Pros
Batteries included
Space shuttle has lights and sounds
Figurine included
Cons
Only one child can play with the toy
The shuttle doesn't do much
Child may get bored due to lack of features

Your child will be ready to take off to the moon with this rocket ship toy. It comes with five figures and also has realistic sounds.
There is enough here for several children to play with and have a great time. The rocket ship is the perfect size for several children to play together without getting in the way of the others.
Pros
Three staging areas means there's plenty of new places to explore
Multiple children can play with the rocket and toys
It's colorful design makes children curious about its contents
Cons
Somewhat small considering how many figurines comes with it
Lose pieces can be lost
Not suitable for outside play
Ready for Takeoff
Make sure your child is ready for takeoff by buying any one of these rocket toys. They will all work great for 5 year olds or a year two of either side.
Space and the great beyond will always be something that your child has an interest in. How can anyone not be interested in what's beyond our big blue planet?
The universe is teeming with planets as your child will soon discover. Allow their curiosity about space flourish by buying any one or more of these toys.
(Visited 445 times, 1 visits today)