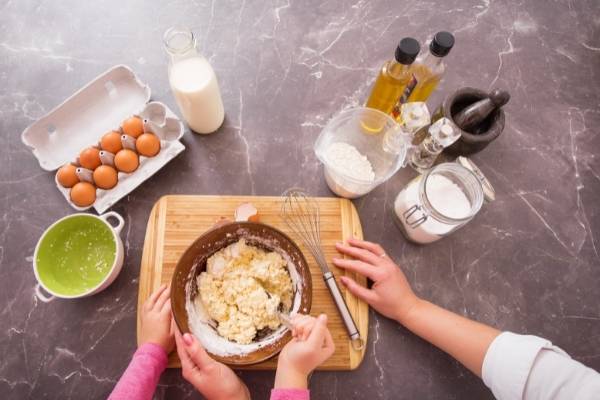 When you're a working parent, it's tedious to find time to prepare daily meals for your child. Many parents want to give their children the best by feeding them healthy dishes while creating time for their tasks.
There's also the question of whether the kid will eat recipes you find in food magazines and videos.
Meals take time to prepare and aren't always healthy enough for children. Many pasta dishes contain splashes of alcohol and aren't suitable for kids.
Children require nutritional foods with different textures. Fruits, vegetables, whole-grain foods, and protein-rich foods contribute to their growth and development.
If you have picky eaters in your family, you have to develop tactics to encourage them to eat. Read more to learn how to prepare a meal for a child.
Delivery Services
For many working parents, it's almost impossible to prepare three meals and snacks for their children every day.
If cooking isn't your forte, you don't have to struggle in the kitchen to prepare meals your child probably won't eat. Meal prep services like Meels offer the delivery of measured ingredients for quick meals.
They also come with detailed steps to guide every recipe. These services allow you to curate a wide range of meals suitable for children of different ages. You can customize the recipes according to your child's needs.
Involve Them in the Cooking
At different ages, children begin to show interest in various activities in the home. With preparing a meal for your child, involving them in the process has many benefits.
Cooking with your child allows you to bond with them and spend quality time together. Cooking together helps picky eaters try more meals since they helped cook them.
You can assign different tasks depending on your child's age. Kids aged two to three can wash ingredients like fruits and vegetables and place them into bowls.
Use this opportunity to test their abilities by asking them to count them.
Older children can contribute by helping to set the table, mix condiments, beat an egg, mash potatoes or bananas, and slice fruits with a child's knife.
Create a Food Timetable
Since children require adequate nourishment, doctors recommend packing their plates with small quantities of all necessary nutrients. It's not easy preparing different food items for every meal.
The snacks can also take time to sort if you prefer to feed your child with unprocessed products.
Curate a list of your child's favorite meals and organize them according to ease of preparation. Create a weekly calendar for at least two meals daily.
Consider recipes that can work as leftovers to optimize cooking time.
Incorporate easy sandwiches into your meal plan since they only take a few minutes to prepare. To avoid eating the same foods, plan for six meals so you can dine out or order takeout once a week.
Meal Prep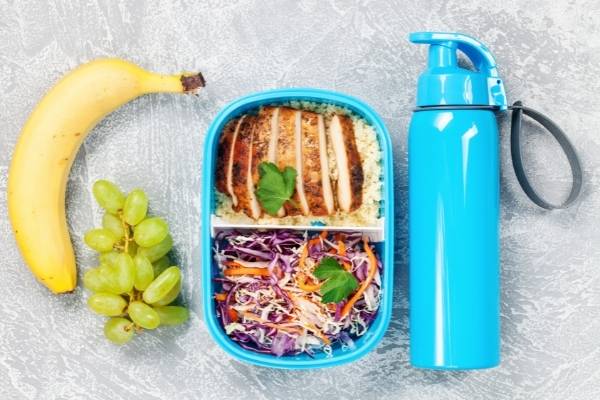 Whether you're working from home or going to the office, the essence of meal prep is to save time, not weigh you down.
Batch cooking during the week isn't a good idea since you'll have a lot on your place. Consider taking a few hours out of your weekend to prepare your meals for the week.
You can either prepare all the veggies and meats you'll need or cook single portion meals for the week and freeze using storage containers.
Ensure to cook your protein on the weekends to save time. If you have an ingredient that requires 30 minutes of baking time, like muffins, start by throwing it in the oven before tackling the quicker ones.
Grocery Shop in Bulk
Unless your child has special dietary needs, many kids consume milk, eggs, and other staples more than once daily.
If you cook all your meals from scratch, you might spend a lot of time grocery shopping. If the food runs out, you might have to put together random items your kid probably won't eat.
To prevent, buy your groceries in bulk. After designing your meal plan, compile a list of necessary ingredients and shop for at least two weeks.
While at it, keep your pantry organized and label all condiments accordingly.
Buy tools that will make your life easier, and don't forget to get child-friendly tools so your kids can safely help you in the kitchen. Don't forget to involve them in the shopping process.
Be Creative
Many kids prefer colorful foods, so you might struggle to get them to eat vegetables. If you notice your child removing the greens from their plates, it's time to get creative.
Buy colorful trays of their favorite characters. You'll find different designs with pockets that hold cereal, fruits, and other foods.
Make mealtime a fun adventure for your children by using themes related to their schoolwork or favorite activities. You can also switch things up with their favorite sandwiches for an indoor picnic.
(Visited 63 times, 1 visits today)