Ribbons are a beautiful way to commemorate milestones, express feelings, or show support. They can be customized in so many ways!
One of the most popular customization options for ribbons is adding lettering and personalizing them with names, phrases, or words.
In this article, we're going to talk about the different ways to get a ribbon personalized.
Personalized ribbon, also known as printed ribbon, is custom made and great for any occasion.
You can get a personalized ribbon with any message on it, great for weddings or graduations!
Personalized ribbons make excellent gifts because they are thoughtful and will last forever as reminders of those special occasions- like wedding anniversaries or birthday celebrations.
Anyone can purchase their own custom-made product through online websites now too!
With just some easy steps, everyone has access to beautiful personalized ribbons today, no matter where they live!
Method 01: Order It Online
Order a personalized ribbon from an online retailer.
The first step is to find the perfect ribbon for you. You can get personalized ribbons at FinerRibbon.com, where you can find a variety of ribbons online.
Take a few minutes and search on your preferred website for ribbons that are similar in color, length, or design- it's up to you! Some people like adding messages or initials.
Once you have found the perfect one, select how many yards of the ribbon should be cut off from the roll. Upload your design to the site and order it- shipping is usually free.
Some sites allow you to upload your text, while others come with pre-designed templates for greetings and holidays!
There's nothing like receiving personalized gifts that show how much care was put into them! Make sure you know what font, style, color, size, etc., you want before ordering the ribbons.
Add text in any language that is appropriate for your ribbon example. In this, anyone can upload their text and design a ribbon with any message.
If you want to order it online, they will send the photo of your personalized ribbon right to your email!
With these easy steps, everyone has access to customized ribbons in absolutely no time at all. So go ahead- pick out the perfect one for that special someone today!
Once the ribbons are made, they'll be delivered right to your door in a few days or less.
Method 02: Do It Yourself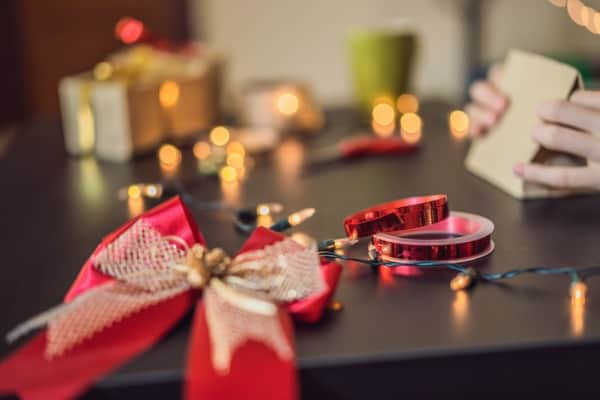 If you're the crafty type and want to save some money, there are a few ways that you can get creative with ribbon. The best part is it doesn't take any special skills or anything fancy, just patience!
Determine the ribbon length you need. Decide what color ribbon you want. You could also mix and match colors if desired.
This is an excellent time to think about the style of lettering that you'd like- serif or script, in white ink on black paper, for example!
Purchase stencils at any craft store or use plain index cards cut into small strips as guides for making more complicated patterns on the ribbon, such as hearts or flowers.
The possibilities are endless here, so have fun coming up with a design. For instance, if you want a ribbon for someone's wedding gift and have their initials as the last name, trace or print out those letters on paper in one-inch size.
Cut your stencil so that it fits over the width of the ribbon, then use a pencil to draw freehand along its edges lightly- this will be your template from which to work!
You can make up to four strips at once by cutting off an edge after each pass with scissors; be careful not to cut yourself.
Once complete, cover all but one strip of cardstock with clear tape or contact paper and attach them as you would page in a book- alternating colors on every other page starting top left.
The template should now be visible on the back of each strip, and there will be one blank page at the end.
Trace your pencil along every edge of this last cardstock sheet to create a stencil, then cut it out with scissors! You'll have four strips all ready for cutting- two front-side templates and two backside templates.
Simply peel off the contact paper or tape from one ribbon, gently fold it in half lengthwise without creasing (or otherwise damaging) it, place your template over its middle point so that it's lined up as best you can manage, and trace around it using whatever medium you used to create your stencils.
Continue doing this with the other three ribbons.
The next steps are to cut out your ribbon and then decorate it in any way you like! Be creative but keep safety in mind while using scissors or paint pens so that nothing gets on clothes or furniture.
Use a ruler as an extra guideline if needed for accuracy- double check before cutting each ribbon from its sheet of cardstock.
You'll get four ribbons ready to be decorated when finished! You can also use anything else around the house (or outside) to create decorations– think about what speaks best to who you're giving them to!
Conclusion
You can get your ribbon personalized with the right information.
We hope you enjoyed our guide on how to personalize a ribbon, and we look forward to helping you take advantage of this great opportunity for your next event!
(Visited 24 times, 1 visits today)