When you think of home improvements, the first consideration is the price. Big renovations can cost thousands of dollars, which a lot of us don't have to spend.
Thankfully, there are plenty of options for a smaller budget to refresh your home and have it looking stunning – whether you're looking to update the place to sell, or simply make it more 'you', we've got some ideas for you!
1. Outline your budget
When you're doing work on a budget, you need to know how much you've got to spend and what the improvements you're planning to make will cost.
Spend some time before you start making the updates to confirm how much you've got, and if you need to hire someone to carry out the work.
Make sure to speak to several professionals to get the best quote.
A good way to keep your costs down is to do what work you can yourself.
You may need to hire a professional if you need plastering done as doing this yourself will likely cause an uneven surface and look out of place, but hanging wallpaper and refreshing walls with paint are popular ways to make improvements without spending too much money.
You can also look to find paint and wallpaper rolls on an offer to save some money, keeping yourself under the budget set.
2. Revamp your staircase
A very popular and low-cost option when looking to do up your house is to focus on the staircase.
Stair runners have become a must in a lot of our homes, and is a delightful way to personalize the area to your style without spending a lot of time or money doing so.
Some homeowners like to keep it more neutral, but a burst of color on the stairs transforms the room and catches the eye of anyone entering your home.
Another great option is adding lights to the staircase.
Whether you prefer spotlights going up the steps or LED strips running up the entirety, you can get a stunning effect – with LED lights, you can also change the color depending on your mood, giving you even more options to personalize and make your own.
3. Focus on the fireplace
So many of our homes have got gorgeous fireplaces that deserve more attention than they get – so now is the time to turn that around.
They are a beautiful addition to any room and should be the main focus when you first walk in, giving your house character and style in one move.
Depending on the fireplace that you've already got, you may want to re-tile it in a more modern design if it's old and outdated.
You can also add all sorts of accessories to your fireplace, so whether you're a fan of candles, photo frames, or a more minimalist look and want to keep the mantelpiece clear, you can make your fireplace a lovely feature with ease.
4. Repaint the front door
Often, homeowners think that replacing the front door is an expensive decision, but you can get away with refreshing it to make it look new at a fraction of the cost.
You can repaint your door instead of replacing it; we've picked some of our favorite colors that we're seeing regularly here –
Lilac
Mustard yellow
Matte grey
Glossy black
Sage green
Royal blue
Burgundy
You can pick the color that works best with the exterior of your house, but also take into account your neighbors.
A bright front door can help your house stand out, but you want it to stand out for the right reasons, and not as an eyesore.
Painting your front door is a great option if you're making these changes in preparation to sell, and have been asking yourself, "how can I sell my house quickly?".
5. Create more storage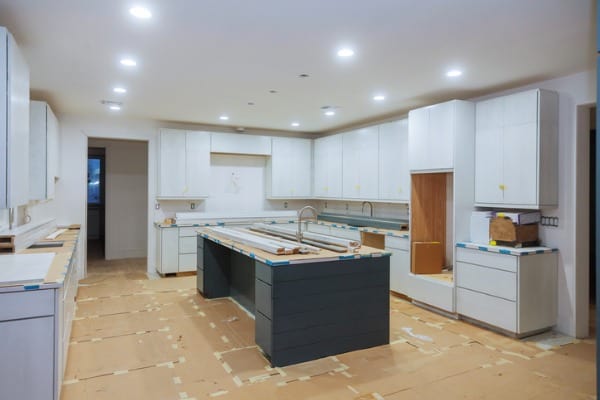 The minimalist style is more popular than ever, and we can see why – it's sleek and clean, and makes properties look more spacious too. It's a win-win!
There are plenty of ways that you can add storage to your home, so whether you prefer to have items on display and like the idea of bookshelves where you can present ornaments, or you lean more towards having things out of sight and want to add storage that's more subtle, you've got plenty of choices.
This is also the perfect trend for homes with alcoves, as you can build in the space that's already there and utilize it rather than having to find it elsewhere and risk losing floor space.
Corner shelving is also a very popular option, making the most of areas in the home you likely wouldn't have been using beforehand.
No matter what your style or budget, you can restyle your house with ease using our top tips!
(Visited 2 times, 1 visits today)