Everybody wants to live in a neat, clean house, however, some of us are too lazy to clean it all the time. The entire process can be quite exhausting, especially if we are not used to it but there aren't too many options in this situation.
You can either hire someone to do this for you or you can do it all by yourself. On a more positive note, today on the market you can come across a lot of spectacular cleaning products that can help you get your house in perfect shape.
The thought of cleaning your home can be frightening and you probably need a couple of hours to mentally prepare yourself for this, but with the help of some of these products, things may be a bit easier.
We will give you a list of things that can be amazing sidekicks during your cleaning process. Let's begin!
The List Of Items That Can Help You
TreeLen Long Handle Broom And Dustpan Set
It's no secret that having a good broom can be of great help when you want to get rid of the trash. Consider this set as an enhanced version of the classic one because it is packed with an extendable broom as well as with a locking dustpan.
Besides that, it comes with great reliable teeth that mop up all the mess and hair out from the bristles. Thanks to them, your broom will keep its original appearance and will not start to look rusty too quickly.
Reusable Cleaning Cloths
Most people either use a sponge or a lot of paper towels when they are cleaning the house. Although these two are a good tool, maybe you should consider utilizing the reusable cleaning cloths.
They are very practical, plus these machine-washable towels can help you get your place in tip-top shape in a blink of an eye.
Cordless Vacuum Cleaner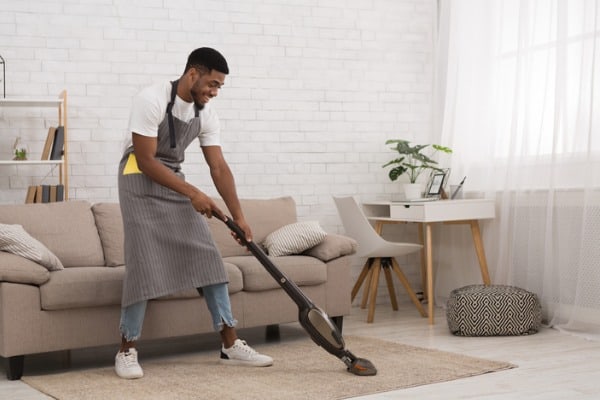 Generally speaking, any vacuum cleaner is a good idea, but we decided to list this one because this type has become increasingly popular over the past couple of years.
On this page, you can also get more information regarding various vacuum systems if you're more interested in that type of cleaners. Now, let's get back to the cordless one.
This version of a vacuum cleaner is definitely intended for those who are looking for something more convenient and flexible. With this one, you can easily clean your entire household without having too much trouble.
Furthermore, a cordless vacuum cleaner usually comes with a lightweight stick body, as well as a tiny canister that must be regularly emptied.
Besides that, they can often be packed with different attachments like a motorized pet brush for pet hair, upholstery tool, and crevice tool.
Don't Forget To Purchase These Products!
A Dishwasher Cleaner & Disinfectant
If you happen to own a dishwasher then you are probably aware of how sometimes it can be a real pain in the neck to wash it, especially if it is filled with grease, dirt, rust, limescale, and other unpleasant things.
With a good dishwasher cleaner and disinfectant, you will be able to get rid of these things, along with E. coli and Salmonella. These products are usually quite easy to use.
Just pour them into a dishwasher and run it at the hottest setting. That's it!
Clorox Bleach-Free Disinfecting Wipes
The good thing about them is that they are really affordable, yet very effective. They can be seen in almost every household.
One of their biggest traits is that they are very thick and lasting and can destroy almost one hundred percent of bacteria and viruses.
More importantly, they can be utilized for many surfaces, such as stainless steel, finished hardwood, and sealed granite.
All in all, a tool that is not going to waste your time and money and will surely come in handy whenever you decide to clean the house.
A Mop With Bucket
Stains and mess in the kitchen or bathroom are nothing unusual, especially if you have children or pets. If you have a huge bathroom/kitchen you can easily utilize just a plain bucket and scrub brush in order to keep everything clean and sparkling.
On the other hand, if any of these parts of your house are smaller, then you might need to use a solid full-length mop to make everything look spotless.
Purchasing a good, flexible mop is a good investment, due to the fact that you will be able to quickly and efficiently polish up your floors, plus it is gentle on your budget.
A Feed n Wax Wood Conditioner
If you are not prone to cleaning frequently, then you can imagine all the dirt that has piled up over the years or months. It cannot be removed easily unless you purchase a high-quality conditioner.
All those years of damage are going to be erased and will make your furniture glow again and return its long lost natural color. It is really easy to utilize.
Just apply it along with a cloth, and wait for approximately twenty minutes to wipe it off.
PhoneSoap 3 UV Smartphone And Universal Charger
Now, this invention probably seems like it has arrived straight from the future. It may not be the case but it is surely very beneficial.
Namely, this device will remove almost one hundred percent of bacteria and germs in a bat of an eye with its extraordinary UV lights. This gadget comes with USB-a and USB-c ports where you can charge your phone.
A Gap Cleaning Brush
Even if you clean your space on a regular basis, it's highly likely that you overlook the tracks of the sliding doors or the gaps in your window frame.
If that's the case with you, then ensure to spend some money on a solid cleaning brush. In no time it is going to help you remove all the dirt and dust that have been living there for years.
Clean House Is A Happy House
You do not have to be Cinderella in order to keep everything nice, fresh, and unadulterated. All it takes is a little bit of effort to maintain it. Perceive these suggestions as your sidekicks that will help your house look impeccable!
(Visited 8 times, 1 visits today)