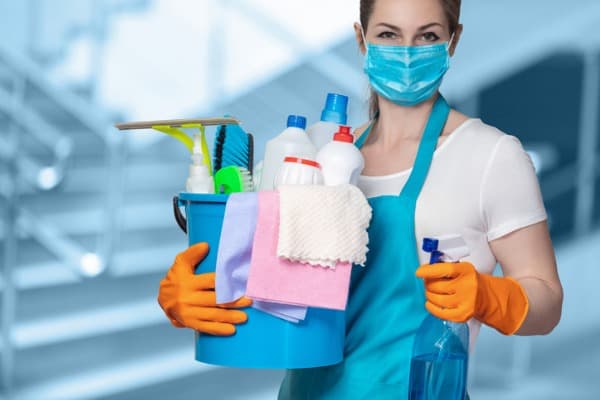 What if you knew that there was help for all of those cleaning chores you have put on hold?
Weekends should be for relaxing and spending time with family and hiring a house cleaner will allow you to do just that.
The idea of hiring a professional cleaner such as this for your home sounds like a dream come true, doesn't it?
And as a busy individual, you should absolutely take advantage of hiring someone to help keep your house looking its best.
But it is important to consider a few different things before inviting someone into your personal space. After all, the whole point of hiring a cleaner is to make life less stressful.
It may seem like more work to do research before you hire a cleaning service, but the effort you put into the research at the beginning of the process will pay off in the long run.
It may take some time to plan, brainstorm, ask questions, and check references.
But all of that is necessary before you invite someone into your home for cleaning.
If you do your due diligence upfront before you hire someone, your dreams of a clean home will come true and you can trust that it will be done by an honest and professional individual.
Tip 1: Know Who You Are Inviting Into Your Home
Your home is your personal space. It is not only a place where you keep many valuable items, it is also a place where personal and private items are kept as well.
As you search for a trustworthy individual or company to bring into your home for cleaning, it is imperative that you know as much as possible about the person or company.
Hiring someone you trust will make the process go much smoother.
You may not have access to background check software, but you do have access to references.
At a minimum, check with a few different references before you hire a new cleaner for your home. And if you have any doubts, trust your instinct and move on to the next candidate.
Any red flags should be taken seriously when inviting someone into your home.
If possible, try and find companies and individuals that have strong reputations.
Recommendations go a long way in the world of housekeeping and it is obvious when a cleaner is well sought after.
Ask family and friends if they have any recommendations and if you hire someone that you don't know much about, make sure to find online reviews if possible before you commit.
Tip 2: Experience Matters
Is the person you plan to hire brand new to cleaning or do they have some work experience?
It may seem like a nice idea to give someone new a chance, but when it comes to your home and valuables, experience matters.
Ask the cleaning service what types of products they use and what makes them different from other cleaning companies.
Make sure that they answer the questions you have before considering hiring them.
When you check references, ask the previous employers if they felt as if their work was consistent and thorough. Paying for your home to be cleaned thoroughly can be a costly expense and you want the job done right.
Tip 3: Document Everything
As much as you want to be able to trust someone, it is important to have things in writing.
One of the most well-known organizations for hiring companies, the Better Business Bureau, suggests not only documenting the price that is agreed upon but also documenting the cleaning services that you expect to be performed.
Once you hire the service and they prepare for the first cleaning, make sure that you are both on the same page with expectations.
It is important to be detailed and specific when it comes to what you want them to focus on while they are cleaning.
After the cleaning, it is important for you to provide feedback so that the cleaners know what went well and what might need improvement.
Remember that you are paying for their services and you have a right to be honest about the results of the cleaning.
Tip 4: What's Your Goal?
Before reaching out to different cleaning services to interview them, you need to know what your short term and long term goals are for your house cleaning appointments.
If you are only hiring the company one time for a deep clean, the company's fees may be different than if you were hiring them for consistent house cleanings.
You need to think about your goals are regarding the cleanliness of your home.
And you need to make sure that the company you are interviewing offers both the options of one-time cleanings and regular visits that you may need.
It is also important for you to decide whether you want to hire an individual or a company as a house cleaner for your home.
There are pros and cons to both types of house cleaners and only you can decide which is a better fit for both your budget and your home.
Tip 5: Stick Around for the First Cleaning
The first time the cleaners come you should be there. Ideally, you have already met with them before to discuss expectations and cost.
But when they clean for the first time, it is helpful for you to be there for many reasons.
You staying around during the first cleaning shows the cleaner you are making sure they are meeting expectations.
When you stay for the first cleaning, your presence also reminds them that you know what happens in your home and you want to make sure they can perform what they promised.
And most importantly, after meeting them and watching them work for the first time, you will be able to get a sense of whether or not you will feel comfortable hiring them for a second cleaning.
Enjoying Your Clean Home
It may take some time to thoroughly investigate a cleaner, but you will be thankful you did once all is said and done.
Not only will you have a clean and sparkling home, but you will be able to trust that your home was well taken care of in the process as well.
Do your research before you hire, and you will end up with both a clean house and peace of mind.
(Visited 4 times, 1 visits today)