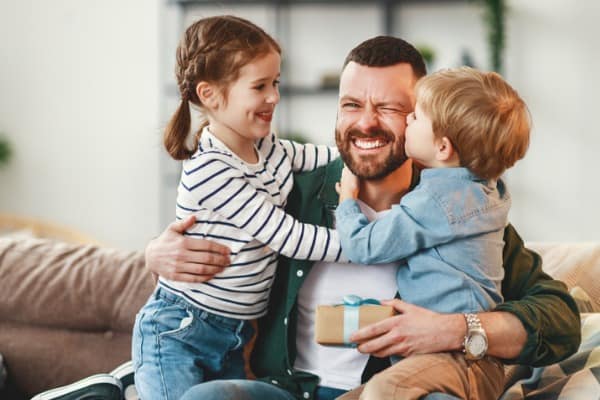 For many of us, it's been a while since we saw our family members. Now, with some restrictions being lifted and more of us being able to meet in groups of six, it's become possible to see our loved ones again.
Whether you're visiting your sister for the first time since last summer or your parents are coming over to see you, you might want to get them a gift to show how much you've missed them.
It doesn't have to be for a special occasion such as a birthday celebration, it could be simply if you haven't seen them for a while and want to show your appreciation.
For ideas about the little tokens and gestures you can make to mark your reunion, here's some gift inspiration that might work well for your family.
Make it personal
As you're buying something for those you love, a personalized gift can be the ideal treat. It is a way of making the item unique to them and can be a really special gift. For instance, do they wear jewellery?
A bracelet adorned with their initials can be a lovely surprise gift for them. Are they a tea drinker? Search for a mug designed with something they love. If you want to have a go at gifting something handmade, a painting or drawing of that person could be a really memorable gift.
You could also personalize a card included with a bunch of their favorite flowers and chocolates. Take the time to think about who they are, such as choosing flowers that are their favourite colors. This way you can get them something that's just for them and brighten their day.
Sentimental keepsakes
Gifting memories is another beautiful way to show how much you love them. A simple way of doing this would be digitally creating a card with personal photos on, and printing this out. However, if you want to go the extra mile, look through photographs from past holidays or parties you've all been to and fill a photo album with them as a special keepsake.
Alternatively, you could add these photos to a scrapbook and add in little items that mean something to you and your family. Tickets to a show you both attended, a cork from a bottle of champagne, and other special mementos that you've kept over the years can all go into the scrapbook.
Delicious dishes
Give the gift of food. Is there a family recipe that everyone loves? Try your hand at whipping this up as a treat for everyone or maybe there's a dessert that's always a winner.
You could try out some of the trending recipes on TikTok, which are usually fun to make and can become a challenge to see who makes the best. This could be anything from a chocolate 'mug cake' to the 'tortilla wrap hack' or the infamous feta pasta dish.
Perhaps you're a family that's always loved a party? If so, you could host a mini barbecue party in your garden. With a hot summer predicted, this could be a great opportunity to enjoy an outdoor family meal, and you could make the occasion extra special with music and outdoor decorations and lighting.
Kit them out
Here you could purchase them their favorite hobby. Perhaps your mum loves to dance to or your dad has a passion for baking. Tap into what they enjoy doing in their spare time by buying them a book, kit, or classes related to the things they like to do most.
If you are unable to see them, this could be a fun opportunity to do an activity together over zoom, and you could even make a competition out of it to see, for example, who is the best dancer or baker.
What gifts would your family members adore?
(Visited 59 times, 1 visits today)