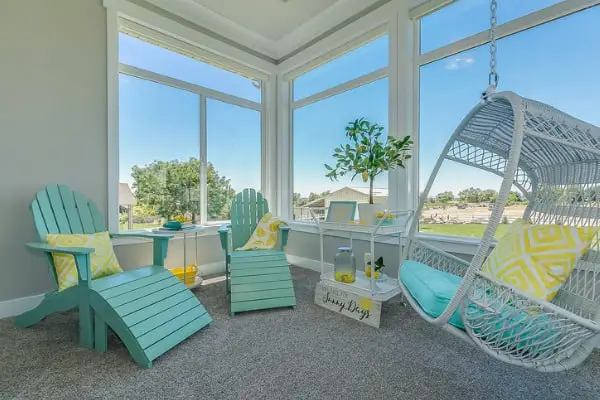 If you have enough space on your compound, then having a conservatory is most definitely the idea of choice.
Not only will having a conservatory increase the value of your property but its also going to provide you and your family with spacious space where you can find comfort, an extra space where you can hold your family meetings and gatherings, and not to mention the fact that you can also rent it out.
Nevertheless, there are challenges that come with owning a conservatory and these can not be ignored. The fact that you've constructed a conservatory doesn't mean that your efforts have to stop there.
You need to ensure that the conservatory is well maintained and serviced. But most importantly. your comfort levels also come into play; this means including anything that can help to enhance your happiness.
That having been said, below are effective tips to help keep your conservatory cool this summer.
1. Install Window And Roof Blinds
Now, apart from helping your conservatory look good, blinds are a great choice when it comes to your cooling needs.
The summer temperatures can be unbearable, and having not adequately prepared yourself for the warm months ahead, it can jeopardize your comfort and ruin your plans.
Let's start with the roof blinds; these are constructed with thermal efficient materials to help keep your conservatory cool during summer, and as explained on this page, they'll also come in handy during winter, acting as insulation against the draft.
However, you must choose just the right blinds for your conservatory as there exists quite a handful including:
Pinoleum blinds – To transform your conservatory into a cool abode, then you might consider installing Pinoleum blinds.
They not only transform your conservatory with bold accents but they also help to break the hot glares from the sun, giving your conservatory space a soft ambiance.
Most Pinoleum blind options are conservatory and are made of wood making them a great option for keeping your space cool.
Roof-roller blinds – Just when you thought you knew something about conservatory blinds, then comes more options, which is good.
Roof roller blinds are perhaps the latest addition to conservatory blind options. As the name suggests, these blinds have the flexibility that allows for movement.
This has been made possible by motorization features making these blinds a rare spectacle in any conservatory.
Pleated blinds – These are blinds that will help to not only complement your conservatory with classic designs but will also help to keep your space cool.
These come in three distinct designs including the classic pleats, duettes, and twin shades.
Bifold door blinds – Your conservatory doors should also benefit from some treatment.
Bifold door blinds are not only a privacy enhancer but as it turns out, they can also help to keep your conservatory cool.
2. Play With Colors
You can achieve so much with color, more than just make your conservatory look lively. There are color combinations that will play the part of soothing your senses and whet your appetite to feel cool.
While in the same vein, some colors can make it hard to cool your spaces no matter the efforts you put in. Among the colors you might want to consider whether for your conservatory furniture, floor, or blinds, include:
Icy blue – This color will give your conservatory space that relaxing and serene atmosphere even in the warmest seasons
Eggshell blue – This is the color that'll give you a calming effect and it's a great color for social rooms
Taupe – This is gray with a hint of beige. It's a more reserved color that will help to calm your nerves anytime.
3. Install An Air Conditioner
You have every reason to install an air conditioner in your conservatory. It will come in handy no matter the season in helping to cool and warm your space.
An AC will give you the thermal comfort you need no matter the season of the year. Now, not every air conditioning system will work for a conservatory.
Portable and mounted air conditioners are highly recommended as they can cool any space in minutes.
Portable air conditioning units can be moved with ease and this is among the benefits of having them in a conservatory.
4. Go Green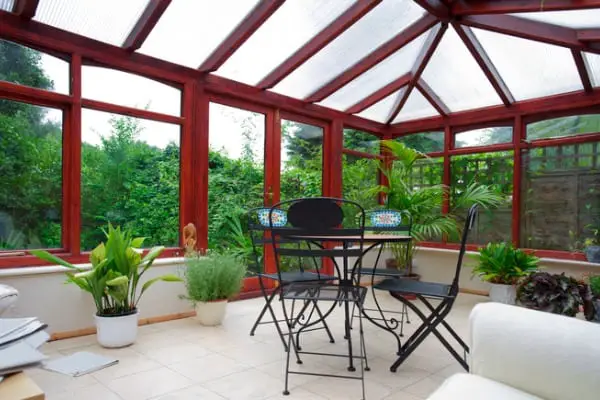 There's a good reason they are called conservatories. These were structures that in the days of yore, were used to conserve and protect plants from the cold weather.
You have every reason to include plants in your conservatory to make it cooler during summer. Green plants are a great choice as they have just the same effect as installing blinds.
Water released during the transpiration process helps plants to cool off and this has the same effects on the surrounding environment. The power of transpiration!
5. Use Insulating Glass Or Cooling Film
If you are designing your conservatory, then you might opt to use insulating glass. Insulating glasses are effective in blocking out the heat but allowing light. It's for this reason that they also go by the name selective glasses.
They are also very efficient during winter in locking in the heat and in doing so will prevent the conservatory from getting cold.
On the other hand, you have cooling films that can be used way after the conservatory has been constructed. This means that you'll never have to incur the costs of redesigning your conservatory.
Cooling films are adhesive layers that can be added directly to the glass and they'll serve the same purpose as insulating glass.
6. Choose A Strategic Location For Your Conservatory
It all boils down to the location your conservatory is located. Conservatories constructed facing northwards are better placed to receive less heat.
However, you want to ensure that the conservatory is well insulated to prevent it during the cold winter months.
There you have it. The above are tips to keep your conservatory cool come winter or a heatwave.
This is your own private space and it must receive the attention it deserves to ensure that you have maximum comfort no matter the season of the year.
(Visited 74 times, 1 visits today)