If you are looking for ways to improve the small spaces in your home with little or no maintenance, then look no further than composite decking.
Composite decking represents the ideal solution to improving both your indoor and outdoor living space.
As they can last for up to twenty years and more, composite decking not only offers great value for money and premium durability but can also significantly increase the value of your house.
Composite decking boards' versatility in being used for multiple purposes ensures it is great for small spaces.
Its cost-effective nature makes it one of the most preferred methods of flooring amongst most homeowners.
Here, we would examine how you can use composite decking for the small spaces in your home, which will ultimately bring remarkable change and improvement.
Home Interior Improvement Ideas With Composite Decking
Composite wood is one of the most flexible building materials available because it can be used either for interior or exterior applications.
You can install composite decking almost anywhere in your house, whether indoors or outdoors.
Composite wood combines the hardness to withstand natural elements and softer finishes to give your home a beautiful and vibrant look.
Although composite decking boards are commonly used for outdoor settings, you can also use them for your interior flooring in many ways.
Where Can you Use Composite Decking Indoors?
Composite decking tiles are quite versatile. In fact, some homeowners use the best composite decking for their sunrooms, balconies, and many other places.
As an added advantage, some composites have fire retardants inside the inner decking materials to make it fire-resistant. This keeps you and your family safe.
Composite decking also guarantees you will be free from termites, rot, and mold, which affects other types of wood. Its splinter-free and slip-proof nature also makes it safe for indoor use.
Home Exterior Improvement Ideas with Composite Decking
Composite decking is commonly used in the exterior settings of a home, and there are many ways you can bring magic to your outdoor space.
With the right decking, you can use an outdoor entertaining area all-year-round.
As composite wood has premium durability made from materials that can withstand natural elements, it will retain its quality no matter the weather.
Let us look at some creative and unique ways to use the natural beauty composite decking offers in the exterior parts of your home.
Improve your Garden
One of the best home improvements you can make is to add a deck to the center of your garden. You can create a unique garden space exclusively to your tastes with the several garden deck designs available.
From leveling the deck to shapeshifting for cut-outs like flower beds, there are lots of traditional charm and modern exuberance your garden can ooze.
Built-In Fireplace
There are many options available when it comes to staying warm outdoors during winter. You can use gas heaters or your own fire pit.
An outdoor fire pit means you can still go to your garden even in the cold months. Should you plan to make home improvements to your exterior setting, you can build a fire pit into your deck.
Extended Living Room
Composite decking can also be used if you plan to extend your living area. An entertaining zone made to be an extension of your living room can be great for unwinding on warm summer weekends.
You can be more creative by building your furniture into your deck with built-in deck chairs and benches.
This also means less inconvenience that comes with dragging things around.
Courtyard Cladding
You can also use composite decking to clad your courtyard. If you are not ready for the hassle that comes with lawn maintenance, decking is your best bet.
As an added advantage, composite decking will give your courtyard a homely atmosphere and will also be easy to keep tidy.
Side Path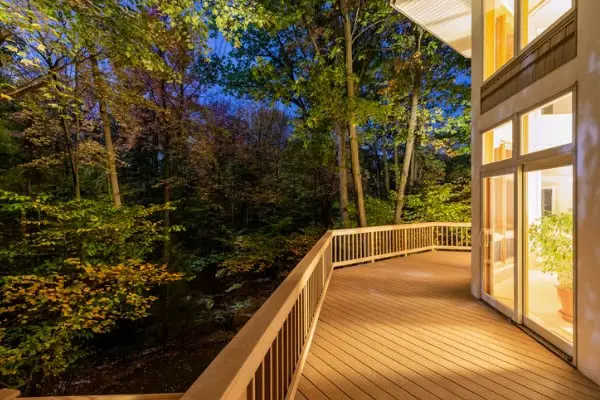 You may not have thought about this, but you can significantly transform your home's bland side path with linear decking.
As composite decking boards are waterproof and sturdy, they can resist downpour from the gutters and offer protection against any underground drainage issues.
With composite wood, you can improve your home's small spaces and make a huge difference in how the entire house looks.
(Visited 6 times, 1 visits today)