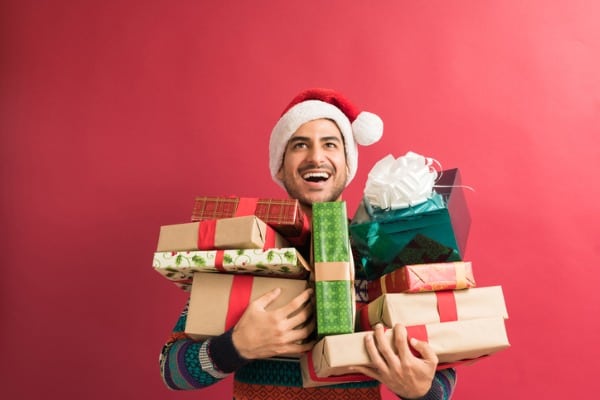 Buying Christmas gifts can be a very challenging task, especially if you're shopping for something special for your dad. While shopping for a gift, you might think that your options are very limited and expected.
Asking your dad what to get him for the holidays will not be of any use, since the answer you will most likely receive is either "I don't want anything," or "I already have everything I need."
Luckily, we collected creative gifts that will make your dad happy this Christmas. Read through our article for practical, thoughtful, and unique gifts for your dad.
Snug and Cozy
Most dads love to hang around and relax. They cherish lazy days and take them very seriously.
What better gift can you get your dad than something that he can lounge around in, especially during the holidays when it is officially time to unwind and spend time with your family?
Your dad would definitely love a luxurious fleece robe with his name embroidered on it. You can consider buying him a matching pajama set, one in which he can lounge around in style.
He would also love to slip into memory foam slippers of a pair of cozy moccasins at the end of the day.
For an even more de-stressing experience, get him a back, neck, and shoulder massager, a heated vibration knee massager, or a pair of acupressure foot massage slippers.
Personalized Gifts
Personalized gifts are awesome because they show the kind of connection that you have with your dad. It will make him feel special and recognized, and he will definitely appreciate the extra little amount of time that you spent customizing the gift.
If your dad loves hosting family dinners and loves to turn his kitchen into his own Michelin star restaurant, a customized wooden cutting board would make a great gift. You can engrave a drawing or a handwritten note on it.
For even more fun kitchen-related personalized gifts, the reviews over at ManlyManCo.com suggest opting for food-related gifts, which can include something as eccentric as a beef jerky bouquet.
For something more fun, you can get him a customized superhero book with his own picture and name on it. This way, you can show your dad what an actual hero you think he is.
If your dad is a golfer, he would love to have his name or his initials on his own set of personalized golf balls.
Personalized leather cufflinks, with his initials engraved in them, would also be a good idea if you want something that he can use more often, and it can be suitable in a work or office setting.
Personalized gifts are generally a great idea, and can be applied to many gift concepts, depending on your dad's interests.
Make Sure He Gets His Daily Dose of Caffeine
Does your dad love coffee a little too much? Any coffee lover would love it if you rewarded or fed into their guilty pleasure that is caffeine. You can invest in a heavy-duty, multi-option coffee machine.
This way, every single cup of coffee that he makes, can become the best he's ever had. Getting him an insulated mug that can keep his drink warm for hours would be awesome if he wants a coffee on the go or would love to take the time and savor a nice cup of coffee.
A coffee subscription is also an option. Some services offer a quiz that asks about his brewing methods, flavor preferences, and other specific questions in order to match him up to the right bag of coffee.
Pamper Him
Spa and salon gift cards are not only reserved as mother's day gifts.
Your dad would definitely love to be pampered as well. Since your dad's beard deserves to be taken care of, you can get him a beard grooming kit that comes with shampoo, conditioner, balm oil, a brush, scissors, and a comb.
For a less complicated gift, you can get him a two-step beard balm and serum bundle, that would still leave his beard feeling soft and prickle-free.
Investing in a grooming service gift card that will send him different hair, face, and body care and grooming samples each month is also a great idea.
If you notice your dad's hair thinning out, chances are he has noticed it too. In that case, you can buy him a Cleansing Thickening Paste Shampoo.
Tools For a Handyman
Does your dad rush to fix just about anything and refuses to bring in a professional right away? Getting him tools that will help him get the job done a little easier might just be the perfect gift.
A magnetic wristband, with ultra-strong magnets sewn inside, on which he can attach all the screws, nails, and bolts, will give him easy access to all of these tools.
You can also get him a Universal Socket Tool Set that he can store in nails, screws, and bolts of any size and shape.
There are also 14 in 1-hammers that contain 14 types of tools including pliers, knives, screwdrivers, and a can opener. 5 in 1 tool pens that contain a screwdriver, a stylus that he can use on smart devices, a leveler, and a ruler can be just what your dad needs.
If he's into gardening too, you can buy him a gardener's tool seat. He can sit down while gardening, and keep his tools in the seat, instead of having to bend down or stay on his knees.
An organic gardening kit will also be something that he'd appreciate.
His Own Organizers
If your dad is tired of losing his things or is fed up with having his belongings lying around the house, you can help him organize his belongings. You can get him his own leather valet tray, on which you can also engrave a small note.
If he often loses his glasses, a fun wooden statue on which he can safely place them is also thoughtful. For an inclusive organizer, get him his own wooden docking station. This small station can accommodate his phone, wallet, glasses, and keys in a tidy manner.
The hassle of Christmas shopping has just been made a lot easier. If you have always had trouble finding the perfect gift for your dad; one that shows him how much you deeply appreciate him, this will not be a problem anymore.
This article will guide you to the most unique, helpful, and thoughtful Christmas gifts that your dad would just love.
(Visited 10 times, 1 visits today)