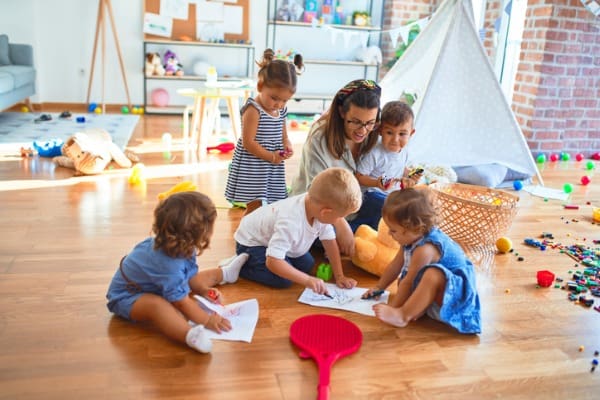 Congratulations on being a new parent! And a word of caution too — difficult days lie ahead, especially if you plan to return to work as soon as possible.
A quality daycare facility like Raising Stars will be a godsend for you in your early parenthood days.
But there's a problem. A problem that arises before almost every decision in today's time — and that's too many choices!
If you live in a large city, you'll be bogged down by the sheer number of daycare options out there.
Who to trust? It's going to be an especially difficult decision if you're a first-time parent, because you'll be anxious and want the best for your child.
While there's no ultimate cheat sheet to help you spot the perfect daycare option, here are some tips to aid you in your decision!
1. Read the right reviews.
Every daycare facility will boast about how great they are on their websites. And they'll probably have supporting reviews as well.
While not all reviews are fake, there's a good chance that the reviews on a website have been edited.
Another possibility is that all the bad reviews are taken down, presenting an inaccurate picture in front of potential customers.
To read the right reviews, try looking up for a daycare facility on a social media website like Facebook.
Companies have a lesser degree of control of the kind of reviews that get posted on their social media pages, so you're likely to get a true picture.
Also, make sure to ask around in your friends and family for daycare recommendations — they're the most credible source of information you have.
While reading reviews, keep in mind that mistakes and imperfections always exist, so one or two bad reviews don't necessarily mean a daycare facility is poor.
If, however, you see the same type of complaint repeated again and again, something's probably wrong.
2. Make sure the staff welcomes you anytime.
A good daycare facility is not afraid of parents dropping by unannounced. So make sure the staff is ready to welcome you to their facility anytime.
Here are some other things to consider when it comes to staff. In addition to the basic prerequisite of qualified caregivers, the staff at a facility should be background-checked and be able to produce a police reference check.
This is not only important for your child's safety but can also impact your child's development because caregivers leave a lasting mark on children.
Then, it's also important to note how the staff communicates and interacts with each other — a good childcare facility will have a congenial, cooperative working environment, which is really important if you want to instill respectfulness and cooperation in children.
It's also essential that the facility has a clearly-defined plan of what happens in the event of a caregiver's absence — it's never a good idea to leave children unsupervised.
So although it seems trivial, make sure you inquire about this when you visit a facility.
3. Look for a child-to-caregivers ratio of around 4:1.
While the exact child-to-caregiver ratios recommended for different age groups vary slightly, a ratio of 4:1 is a good one to target.
The more caregivers a facility has compared to the children, the better it is for your child.
Also, look for facilities with a low employee turnover, which means the same caregivers stay with your child for long periods.
Some parenting experts believe that the same caregiver should stay with your child for at least a year, which will allow you to communicate with the caregiver easily in addition to the improved daycare experience your child will receive.
It's important for you to regularly communicate with your child's caregiver because that's really the only way you can communicate to your child about their daycare experience.
Make sure to convey information like how your child slept through the night to the caregiver and in return, ask for information like how and when he napped and how happy he overall was.
4. Determine whether your child will be safe in the facility.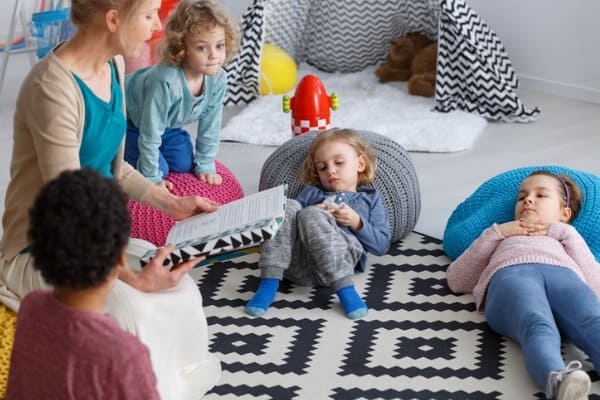 …after all, all you want at the end of the day is for your child to remain safe. One important aspect of daycare safety is how they put your child to sleep.
To reduce the risk of SIDS, safe sleep guidelines recommend making babies sleep on a firm surface, without items like toys, blankets, or pillows with them.
Make sure the childcare you choose follows safe sleep guidelines firmly.
Not only that, the facility should have see-through cribs because you want caregivers to keep an eye on your child even when they're sleeping.
Other safety measures to note include clean, working toys, no harmful substances like cleaning supplies or small items (on which your child could choke) around, stairs blocked for your child, and cribs far away from windows.
Although safety is the last item in our list, remember to always keep it on top of your priority list when searching for daycare facilities!
(Visited 7 times, 1 visits today)