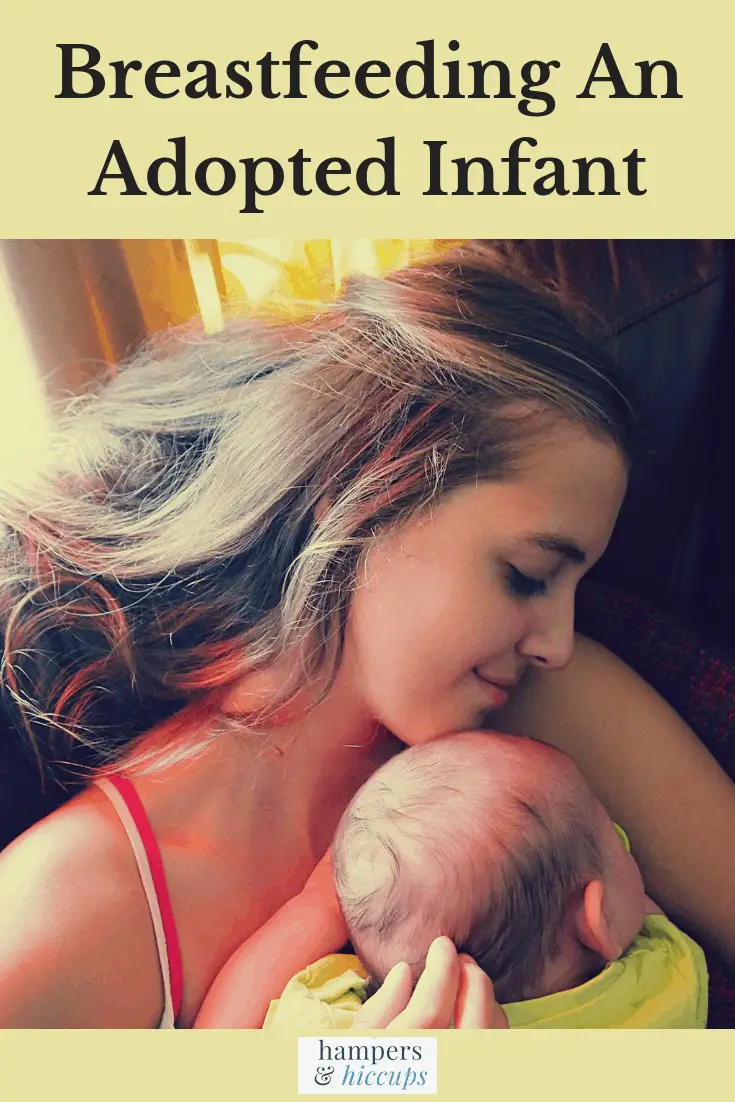 Are you in the process of trying to adopt a baby? Did you know that it is possible to start breastfeeding an adopted infant? This article will answer some of the most common questions about nursing an adopted baby.
Breastfeeding An Adopted Infant
Is it possible to go from having no milk to producing milk for a little baby that is depending on you? Many, many years ago, babies were often nursed by a woman who was not their natural mother. She would have been called a "milk mother" or "wet nurse," and often this was a woman that had not previously had children. She would give sustenance to little ones whose own mothers social status deemed it more appropriate to have their infants breastfed by another woman. So yes, it has been proven through the ages that any woman CAN breastfeed. It is even possible if you have never been pregnant or have reached menopause. Breastfeeding an adopted baby may be different than nursing a baby you birthed, but it can be achieved through the process of induced lactation (described below).
Is it possible that you will not succeed? 
Maternal factors include hormonal imbalance affecting the number of milk glands, or behavior of milk gland tissue, mammary involution, and frequency of breastfeeding. See this article for details. Sometimes not having the support of spouse, family members or peers discourages the mother from carrying on. Outside support groups may help in this matter. However, even in the absence of lactation, just the act of having baby at your breast can increase the mother-infant bonding relationship and may accidentally bring in your milk supply as a bonus.
Infant factors include a variety of suckling problems, some of which may relate to underlying illness. They could have "breast refusal," which may last only 3 days or be an ongoing thing.
Benefits Of Breastfeeding Your Adopted Baby
There are many benefits of breastfeeding, but there are a few I want to mention here.
Creating an optimal emotional bond – An American Academy of Family Physicians (AAFP) position paper notes that "In many cases, the opportunity to emotionally bond during nursing is the primary benefit of breastfeeding for adoptive mothers and babies"
Promotes emotional attachment
Strengthened infant immune system
Helps protect against such conditions as eczema, allergies, asthma, and ear infections
Lower risk of obesity
Lower risk of SIDS
Lower risk of infant tooth decay
Health benefits for mother as well as infant (some are well-balanced hormones and a feeling of peace and relaxation in the mother as well as reduced risk of breast cancer)
More environmentally friendly than formula
Children who were breastfed score higher on tests than formula fed peers
Timing
Sometimes you don't know you will be able to adopt an infant until seemingly the last minute and then it is "hurry up and buy supplies", etc. Other adoptions are known well in advance, and often the adoptive parents are allowed to be in the room when the baby is born. Depending on the timing, this is what you can do.
How To Bring In The Milk (Induced Lactation) Before Baby Is At Your Breast
Learn as much as you can about stimulated milk production. Knowing the natural process of lactation can help you as you work to increase your milk production.
To prepare you can stimulate your breasts by hand or by [amazon_textlink asin='B0767KMGRK' text='hand pump' template='ProductLink' store='neededintheho-20′ marketplace='US' link_id='3fb8b658-b74b-11e8-a285-2b3b281e232f'] or [amazon_textlink asin='B002JIX7JM' text='electronic pump' template='ProductLink' store='neededintheho-20′ marketplace='US' link_id='5da1927f-b74b-11e8-8351-1d99445dacc6′] for several weeks or months before your baby arrives. Hand expression requires no equipment and can be used to stimulate milk production.
Whether you are using a pump, hand expression, or both, this method is most effective when done every two hours when awake and after six hours of sleep as a baby would be breastfeeding. You may not have any milk come out at first, when it does, express one ounce per breast at each pumping time. [amazon_textlink asin='B006XISCNA' text='Store the milk' template='ProductLink' store='neededintheho-20′ marketplace='US' link_id='07190d96-b74c-11e8-bb59-5180f6ab6a50′] in the freezer. Combining hand expression and breast massage with pumping has been shown to increase milk production more quickly. Many women begin to notice breast changes in the first 6 weeks of expression. Mothers may notice breasts that feel larger and firmer, breast tenderness, protruding nipples, and drops of milk. Hopefully, you will have worked your way up to the one ounce per breast by the time of adoption and then you will be ready to [amazon_textlink asin='B01M0F1XWL' text='nurse anywhere' template='ProductLink' store='neededintheho-20′ marketplace='US' link_id='7f5feaed-b74c-11e8-823e-8fb85b2d2230′].  If not, read the next section below.
How To Bring In The Milk (Induced Lactation) Once Baby Is At Your Breast
If you did not have time to prepare before adoption, you can still begin breastfeeding and expressing milk.
Some moms use an at-breast supplementer so that their babies can receive supplemental milk through [amazon_textlink asin='B002Y2NFBI' text='a small tube at the breast' template='ProductLink' store='neededintheho-20′ marketplace='US' link_id='833fc7ab-b74d-11e8-a7b7-9bc69540cd0b']. The Medela Starter Supplemental Nursing System (SNS) works by allowing your baby to get supplemental milk while breastfeeding at the same time, it allows milk to flow by gravity, and it comes with a variety of sizes of tubing for faster and slower flow.
A supplementer has dual benefits: the baby gets nourishment (you can choose to put another woman's breastmilk in it, sometimes the birth mother is willing – or you can use formula), while the mother's breasts are stimulated to begin producing milk.  Some mothers do not use a bottle at all. They get the baby to the breast frequently using an at-breast supplementer and encourage comfort nursing between supplements, and then do not need to spend time expressing milk between feedings. It's okay to offer your baby a breast with no milk. Keep in mind that babies enjoy comfort suckling. Have them on your breast rather than a pacifier and the milk will come in sooner.
Breastfeeding Your Adopted Baby
It may be surprising to learn that you can breastfeed a baby or toddler of any age. Consider the age and experience of your little one.
If you are able to be at the delivery of your baby and put your baby to the breast immediately, then the process you follow would be the same as if you had given birth.
Your baby may still instinctively root, search for, and take the breast when placed skin-to-skin on your bare chest, even if previously bottle fed. If your baby seems to prefer bottles, it is still possible to breastfeed.
Be patient and relaxed when offering your breast. The older your baby is, the more time it may take to be comfortable being skin-to-skin with you. A neglected or abused child will need time building trust and attachment before being ready to breastfeed.
Here are some ways to help baby become comfortable with you:
Spend lots of time lying down with your baby with skin-to-skin contact

Take baths together

Frequently carry or [amazon_textlink asin='B01CYTYSR0′ text='wear your baby' template='ProductLink' store='neededintheho-20′ marketplace='US' link_id='b7bbe0c4-b750-11e8-b829-9bee412b149b'] during the day

Sleep [amazon_textlink asin='B079MBJCKD' text='near your baby' template='ProductLink' store='neededintheho-20′ marketplace='US' link_id='aacc4304-b750-11e8-b9ff-4faecc209795′]

Holding your baby while feeding

Giving solid foods on your lap (if older than six months)
Nursing All The Time
Once things are established and you no longer need the supplementer, you may feel like your baby is nursing all the time! This is perfectly normal! Also, there are times that baby goes through a growth spurt and seems to nurse all day every day for a few days. It may be hard to get anything done during this time, but remember that you are doing the most important thing in the world, nourishing your baby. All too soon, that little one will be 19 years old and independent. (I know, my oldest child is 19 and I do not regret not having the house clean or the laundry done those days now when I look back!)
Once your milk comes in, you will notice that your breasts leak milk at odd times and you will want to wear a [amazon_textlink asin='B01EFNPD7W' text='nursing bra' template='ProductLink' store='neededintheho-20′ marketplace='US' link_id='eac7a45a-b757-11e8-8566-932788d141c9′] with washable reusable breastfeeding pads or [amazon_textlink asin='B0179BQBP0′ text='disposable nursing pads' template='ProductLink' store='neededintheho-20′ marketplace='US' link_id='103f516a-b758-11e8-ba8e-ef84242c5f1d']. If your nipples hurt, you will want to put [amazon_textlink asin='B005MI648C' text='nipple ointment' template='ProductLink' store='neededintheho-20′ marketplace='US' link_id='28cc9005-b758-11e8-a197-85942948288a'] on them for relief.
How Long Should I Nurse?
I recommend that you nurse as long as you and baby want to. I have nursed a child as long as three and a half years, but I am pregnant now and I may nurse the next one longer. I am 45 years old, I know how fast kids grow up and have experienced the benefits of breastfeeding and am not worried about what other humans think at this point in my life. I know I am doing the right thing for that child. La Leche League also supports this theory and are a great support to nursing mothers.
My Personal Story Of Bringing Milk Back After Drying Up
I gave birth to a baby in 2005 and was diagnosed with peripartum cardiomyapathy (PPCM), which is pregnancy induced heart failure, it is rare. I was put on heart medications and had to stop breastfeeding right as my milk had just come in! I had to go through the painful process of drying up while laying in intensive care at the hospital.
I became a believer in Christ Jesus at age 30 after a miscarriage and I and other believers prayed for healing. I believe that God healed me. I was healed after 2 and a half months. I got off the medications and wanted to breastfeed.
I personally hated getting up in the middle of the night and trying to make a bottle while holding a crying baby (getting the water to the right temperature, adding the right amount of formula, mixing it, watching for air bubbles, finding the burp rag for spit ups (I have experienced less spit up with nursing), then trying to feed a now very fussy baby and attempting to calm him back to sleep. It takes a long time, in my mind. By the end of the process, I am very much awake and can't get back to sleep!
With breastfeeding my first three babies, I had them next to me in an [amazon_textlink asin='B01IY4PWY2′ text='Arm's Reach co-sleeper' template='ProductLink' store='neededintheho-20′ marketplace='US' link_id='551e94c9-b759-11e8-ba0e-7b274ecc95ad'] that attached to the side of my bed so I could reach over at the first little whimper and pull them close to me and give them a breast which was already at the right temperature! Hardly any fussing or crying, it took hardly any time, I didn't even have to leave my bed, my baby fell back asleep quickly and I could get back to sleep easily.
I knew I was dry, but really wanted to try! The first thing I did was pray and ask God to give me my full milk supply back so I could nurse this baby. Then, while waiting for that to happen, I began offering him the breast all throughout the day to suck on, and he did. If I noticed he was really hungry, I gave him a formula bottle. I did not pump or use a supplementer. After two weeks of doing this, my milk was fully back and I was able to stop using formula. I was so happy to be done washing bottles, nipples and collars! He wanted to nurse until he was a little over two years of age.
Whether you can supply milk or not, focusing on the entire experience of breastfeeding (especially the emotional bonding with your baby), and not just how much milk you can make, is the main thing.
This article was submitted by Amy Marohl, a large family homeschooling mom and blogger at neededinthehome.com.
(Visited 348 times, 1 visits today)