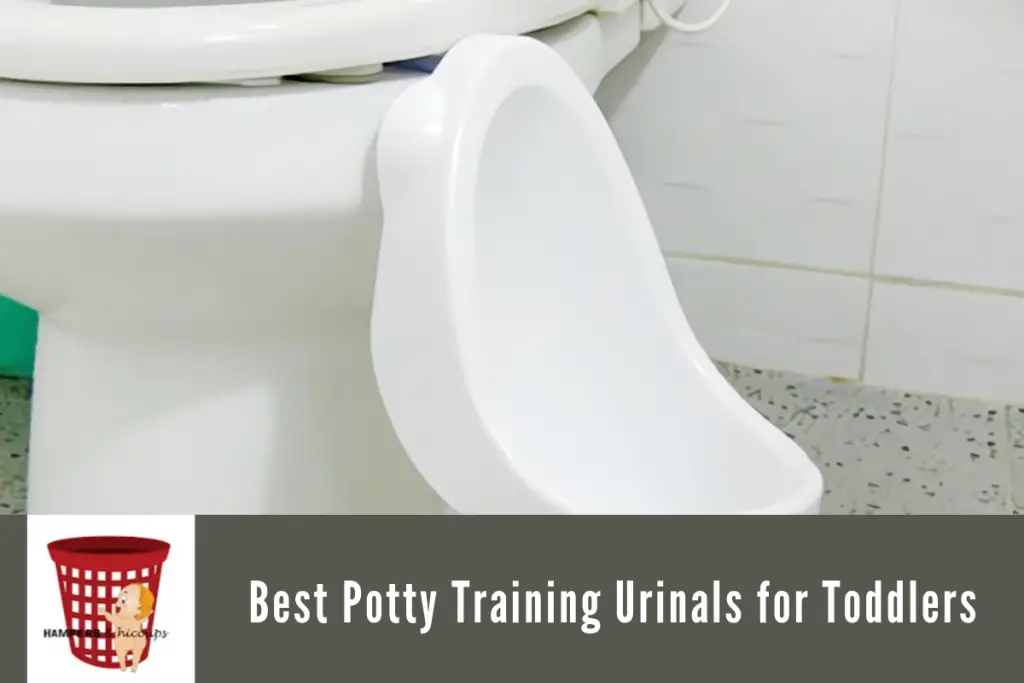 When it comes to potty training, any tools or tricks that can help smooth the way for you and your little one are much appreciated! It is a tricky time for your toddler but also brings some proud moments.
There are so many products for babies and toddlers that it can be hard to know which will sit unused and which you'll realize you can't do without. For boys, a potty training urinal can make going to the bathroom easier and teach them what they need to know.
In the future, they will need to stand up and use a urinal, so learning what to do from a young age, but with a fun approach, can be very beneficial. We took a look at the top potty training urinals on the market to see what they could offer and how they meet different needs. We hope you find our review helpful in determining the best potty training urinal for toddlers.
Best Potty Training Urinals For Toddlers Review: Our Top 5 Picks
Check our top picks at a glance below:
Last update on 2022-09-17 / Affiliate links / Images from Amazon Product Advertising API

The Cuddle Baby Urinal is a friendly-looking and colorful product. It has been designed to help  make the potty training process fun.
The bowl is large and curved like a real urinal. In order to give boys something to aim at, there is a spinning target.
Features
The urinal is curved in design to look like a whale, which appeals to young kids. The curved feature also prevents spillage.
It comes with a potty training chart and stickers to track progress and give rewards. You'll find three mounting options for this product: suction cups, adhesive wall hooks, or a screw-in mounting plate.
Pros 
designed to avoid splash
light and portable
easy to install at the right height for toddlers
easy to clean
Cons
not all methods of installing are easy and secure
spinner function doesn't always work
Customer Sentiments
Some users mentioned that they would have preferred a stand as a mounting option. Many users were happy with how independent it helped their toddlers to be. A frequently occurring comment was how the product made it fun which really had an impact when starting potty training.

The JD Kids Urinal looks like a miniature version of the real thing. It comes in a range of colors for you to choose from. You can opt for bright and kid-friendly or something that will blend with your bathroom. It is less comical and childish in design than the other products featured in this review.
Features
This urinal can be hooked to the side of the toilet to be used in the bathroom. Another option for installation is to use suction cups to put it on the shower wall, or it can be screwed to the wall.
The clip that attaches the urinal to the toilet side is adjustable, so it can be placed at different heights to suit your toddler.
Pros
minimal splash
small so fits in most bathrooms
easy to install
Cons
less affordable than other products reviewed
suction hooks not always secure
Customer Sentiments
Users said it was so easy to empty that their kids even did it themselves. Many users were impressed with how easy the product was to clean. While others said, there was an element of trial and error to find a place to put it at the right height.

The Foryee Cute Frog Potty Training Urinal is colorful. It has a fun frog design to make potty training more approachable.
This product is one of the most affordable selections in our top 5. It has a target for little kids to aim at while using, which helps the potty training process along.
Features
This urinal comes in a range of colors. The spinning target is designed to look like a tongue in the frog's mouth.
It has a  removable bowl to assist with emptying and cleaning. You can install it using suction cups or hooks. You can place the product where you need to for your toddler's height, and adjust as necessary.
Pros
small so will fit in most spaces
easy to clean
when using the hook, it easy to move around
Cons
the target can be a bit stiff making it hard to spin,
some splashes during use
Customer Sentiments
The majority of users noted that the urinal really encourages kids to go on their own as it is fun. They liked the fact that no steps were involved, meaning there was no risk of falling. Several users found it easy to clean in the sink, due to its size.

The Soraco Frog Potty Training Urinal is another variation on the froggy themed products. It is colorful and fun.
The urinal has a spinning target to help improve a toddler's aim and to make the process more entertaining. The main part of this product is shaped like an adult urinal to get them used to the real thing.
Features
The bowl of the urinal detaches from the frame for easy emptying. There is a choice of green or a light brown color for this product.
There are two ways to install this urinal; you can choose between suction cups or a hook. These methods of installation mean you can place it at the height required, and adjust as necessary.
Pros
deep so minimal splash
doesn't need emptying often
good size
Cons
target doesn't spin easily
suction cups not effective
Customer Sentiments
Users were impressed with how easy the urinal was to move around. It could be taken away on a trip and moved from the family bathroom to a downstairs toilet easily. Many users commented on how this product changed their approach to potty training and that their toddlers love it.

The Sundee Boy's Baby Urinal is a bright and colorful product. You have two color options: green or red and blue.
Like other products in this review, it is designed to look like a frog. It has a rotating wheel as a target to improve aim and accuracy when potty training.
Features
This urinal is lightweight and portable. It has good depth in order to make it easy to use.
It has a removable inner portion making it easy to empty and clean. You can install it using suction cups or a hook attachment.
Pros
easy to install and adjust for height
easy to clean
compact
Cons
some splash from the spinning wheel
some drips
suction cups not very secure
Customer Sentiments
Many users commented on how this product helps toddlers to go to the bathroom by themselves. They were happy with how it made potty training fun. Many users were surprised by the size of this urinal and found it smaller than they had expected.
---
What To Look For in Potty Training Urinal
Hopefully, our review of the top 5 potty training urinals has helped you to learn more about what is out there. When searching for the product to suit you, there are a few key considerations, which we have outlined below.
Appearance
One of the biggest difficulties in potty training is getting your toddler to engage in the process. The appearance of your potty training urinal can really have an impact on this. Many users have commented on the fact that a fun, bright, and colorful urinal was something that their toddlers wanted to use, sometimes without even being asked!
While a fun appearance helps to kickstart the process, it is still important to have a functional urinal. The shape of the training urinal should still serve its purpose by minimizing splash and holding everything it needs to. Having a product that resembles adult urinals is beneficial. Once a child recognizes the urinal shape, they will know what to do when faced with other urinals, which is an important part of the learning process.
Size
The products reviewed are surprisingly small when you see them up close and in your bathroom. They are made for little people though, so should do the job required. Most of them are designed to be portable or removable so you can change the height, put them in other rooms, or take them with you when visiting relatives.
Having a product that is a space-saver is generally seen as a plus. However, if you want something that your child can use for longer, has more space to use and therefore less chance of spillage, or something that feels a bit more substantial, then we would recommend checking the dimensions for some of the larger products.
Training Needs
These products are fun and easy to use, which makes them great for kickstarting the process. The biggest battle with potty training can be implementing the new routine. However, a little thought might need to go into refining the process.
In order to progress from simply using the urinal, you might need a few other elements to help them grow in confidence, improve their aim, and get in the habit of going independently. Having a product with a target might help to avoid spillages and splashes.
Some products also come with potty training charts and stickers, which help to encourage toddlers to continue using the urinal and mark their progress.
Installation
There are a few things to consider before purchasing a potty training urinal. Once you have decided that having one might be useful, you'll need to think a bit about how it will be used. The two main elements that affect the installation of the urinal are the height of your toddler and where you will put it.
Ideally, you will have a product that is easy to install and can be moved to suit your toddler as they grow. Many products come with suction cups, so you'll need a flat surface to stick these to. Alternatively, as the suction cups can be hit or miss, you'll need a space where you can stick or screw in a hook to hang the urinal from. If you don't have a space suitable, you could consider the model that hangs from the edge of the toilet seat as an alternative.
Cleaning
When reviewing the product descriptions, many products will indicate that they are easy to clean. There are a few features to look out for that will make this job easier. Many potty training urinals have a part that comes away from the frame, which makes it easy to empty and clean.
Another positive attribute is size, as the smaller models can be rinsed in a basin. You can also look out for models that are smooth and don't have too many ridges or moving parts, which makes them easy to wipe or rinse without anything getting trapped.
---
FAQs about Potty Training for Toddlers
1. When Should We Start Potty Training?
As with all elements of child development, there aren't any hard and fast rules for when you should start. The most important thing is that you don't rush into it.
Look out for signs that your little one might be ready to start. These signs include regular bowel movements, better bladder control, which you'll notice when you don't change diapers so often, they might start talking to you about going to the bathroom, or they might complain more about being in nappies.
2. How Can I Prepare for Potty Training?
How you view and approach potty training can impact your child's success. A bit of preparation in how you go about the process won't guarantee a smooth process, but it could help.
Stick to being positive, look at the good things that could come out of potty training but don't refer to diapers negatively either. Get comfortable talking about bathroom habits; if you and your kid can have a normal conversation, the ride will be less bumpy.
Choose clothes for your little ones that are easily pulled up and down, and start getting practice in while you are changing their diapers. As we know, picking the right potty training tools is important too, let them see and get used to the idea while you make the transition.
3. What Should I Expect When Potty Training?
Keep in mind that this is a process, and not something that can be achieved overnight. Even once they start using their potty, there will be steps backward and forward. That means that if you are relaxed about their journey and remain patient, it will be a better experience for everyone. It is something they need to decide to do, and you'll be happy when they do it on their own, so try not to tell them to.
---
Verdict
There are some great potty training urinals on the market to choose from. The Cuddle Baby 2nd Generation Urinal comes out on top thanks to its eye-catching whale-like design. The curved and deep bowl really minimizes splashes and spills, and less mess is definitely a good thing!
Last update on 2022-09-17 / Affiliate links / Images from Amazon Product Advertising API
(Visited 955 times, 1 visits today)