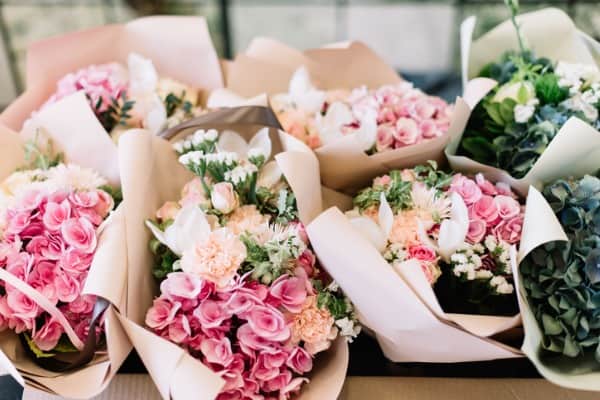 When you think about it, there are few less practical gifts than a vase of cut flowers. These frivolous plants will spend a few days or weeks in a vase before wilting, with little use.
So why is the global flower industry booming?
The truth is that, short-lived as these plants are, there are too many benefits of flowers to pass up. From their attention-grabbing looks to the pleasant smell to the pop of color, it's clear that there are plenty of reasons to be eager for your next floral arrangement.
Here are a few reasons to have flowers in your home more often.
1. They Create a Welcoming Environment
First things first: there's nothing more refreshing than walking into a room with a beautiful vase of flowers.
Floral arrangements have a way of making a space seem welcoming, which can be a great tactic to keep in mind if you're the kind of person who always has guests over!
Even if you've already put in the effort of cleaning and freshening up your space, flowers are an impressive touch that's always appreciated.
2. They Cultivate a Specific Mood
Want to relax at the end of the workweek, boost your energy and creativity, or add some sunshine after a gloomy day? No matter what mood you want to cultivate, the right types of flowers can help get you there.
As a bright pop of color that you can replace with ease, cut flower decorations can be a great way to cultivate a specific mood within your space. Try adding bright accent flowers to liven up your living room, or get some popular flowers in cool or neutral shades to relax in the bedroom, for example.
3. They Make Your Home Smell Great
It's hard to pass up the aromatherapeutic appeal of a vase of flowers. If you've picked the right fragrant flowers, you'll be able to enjoy fresh floral scents for days and even weeks. While scented candles and essential oils are nice, flowers pack a double punch because they look beautiful as well!
In addition, the smell of flowers is more than a mood boost. Because our sense of smell can help with recall, one study found that smelling flowers even improved episodic memory in its elderly participants.
4. They Clean the Air
In addition to smelling great, flowers can help filter the air in your home. This is especially true of planted flowers like peace lilies, which can help to improve your air for much longer than a vase of flowers.
However, it's worth noting that even cut flowers will take in carbon dioxide and "breathe out" oxygen during respiration, which can boost the air quality in the immediate space.
5. They're Natural Stress-Reducers
There's plenty of research to back the idea that indoor houseplants help lower our stress levels. For those of us who can't spend much time outside communing with the natural world, plants can help bring feelings of vitality and energy to us indoors.
Seeing some greenery is an easy way to remind ourselves of nature, which can in turn lower anxiety and improve mental health.
However, it's worth noting that even cut flowers can help with stress! One study from the University of North Florida found that women who received a gift of flowers reported lower stress levels than those who received a candle or nothing at all. In other words, buying your home flowers isn't a simple indulgence: it's an act of self-care.
6. They Help You Heal
Beyond mental health benefits, did you know that fresh flowers can even help with physical healing?
One study found that patients with flowers in their rooms benefited from the therapeutic influences of these plants over those without.
While recovering from surgery, the patients with flowers needed less pain medication, had better blood pressure and heart rates, and felt less pain, anxiety, and fatigue than the other patients.
These medical benefits may be linked to the benefits above, as lower stress and a better mood are known to help with physical healing.
7. They're Conversation Starters
Want to get the conversation flowing at a gathering in your home? There are few flower benefits as obvious as this one: they're great conversation starters! Adding a statement floral arrangement to your dining room or entrance table is an easy way to get your guests talking.
Bold orchids, towering tulips, or expansive hydrangeas can add a pop of interest to any room. Not sure which flowers to choose? Try working with experts like the team at Phillip's Flowers to find the perfect statement piece.
8. They're Satisfying to Care For
In general, caring for plants can offer a satisfying mood boost. The act of watering and tending to a plant, day after day, allows you to focus on external care instead of any internal struggles.
Even better, the beneficial effects of this treatment are obvious: those plants only look as good as they do because you've been caring for them!
Caring for houseplants is a great way to reduce stress, and the same is often true of cut flowers—especially because they tend to require more intensive short-term care.
Reap the Benefits of Flowers
It's hard to pass up on these key benefits of flowers, whether you're welcoming a crowd of guests or putting a vase onto the table just for your family. With their stress-relieving, memory-boosting, health-enhancing powers, your next floral arrangement can pack a powerful punch!
Be sure to check out the work of local florists in your area to find the perfect bouquet for your living space.
Want additional tips on getting more out of your home? Be sure to check out our other posts for tips and tricks.
(Visited 58 times, 1 visits today)