There are several reasons why you might want to upgrade your home. You might be thinking about selling in the future and want to do what you can to increase the value of your home, or you might want some extras that will make living there more comfortable. Whatever your reasons, here are three ways to upgrade your home.
Bathroom
Your bathroom can be upgraded in plenty of different ways. One of the most popular ways is to increase the amount of storage that your bathroom has. You can install cabinets underneath your sink to take advantage of this space. These cabinets are shaped to fit around your sink and make the most of space that you have likely ignored. This will give you much more room to store products and help to declutter other areas of your bathroom and home. This might not be an option for you, so you might want to get a cabinet installed on the wall instead. This would serve a similar purpose, but in a different location. If you have young children and want to keep certain things out of their reach, then this might be a better option as they won't be able to take things out of a high up cupboard.
Lighting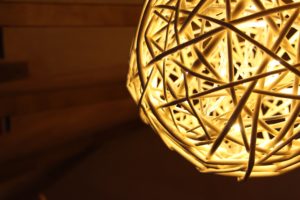 Lighting plays a massive part in the feel and atmosphere of your home. Most homes and houses only have a standard light fitting in the middle of each room. You might want to upgrade these to something more special, interesting or appropriate. Adding something like mood lighting or track lighting can make a massive difference. They can help you manage the amount of light in your home at any time. You might even want to get a dimmer switch installed. This might mean that you need to borrow money and you might not think that improving my home with a loan is worth it, but effective and stylish lighting can help improve the value of your home and make it better to live in.
Kitchen
There are plenty of ways that you can upgrade your kitchen. If you are struggling for storage and general kitchen space, then you might want to upgrade your cupboards and cabinets. This might mean adding extra shelves that were not there before or installing roll out cabinets. Roll out cabinets make the most of the space. This is because rather than struggling to reach for or fit things into the back of your cabinets, you have a basket everything sits in that can easily be rolled out. This means that you can take out items easily and store things in the way that suits you best. Another great thing about them is that you do not need to replace your current cupboards and cabinets. Instead, you can simply fit them with a roll out modification upgrade. You can buy these from DIY stores and fit a basket onto them easily. If you wanted to go extremely budget, then you can get baskets with small wheels on to fit on each shelf as well.
[interact id="5a7bb26750642b001478ad5b" type="quiz"]
(Visited 8 times, 1 visits today)